March 10, 2023 |

Terry Smith
5 Tips For Avoiding Injury When Moving And Handling Patients
Work-related musculoskeletal (MSK) injuries are one of the most common types of ill health among NHS and social care staff in the UK. In fact, in 2021, almost a third of all NHS staff experienced MSK disorders as a result of work activities, according to the NHS Staff Survey that year.
In this article, we will be sharing 5 tips you can put in place to help you avoid injury when carrying out patient transfers and patient-handling tasks.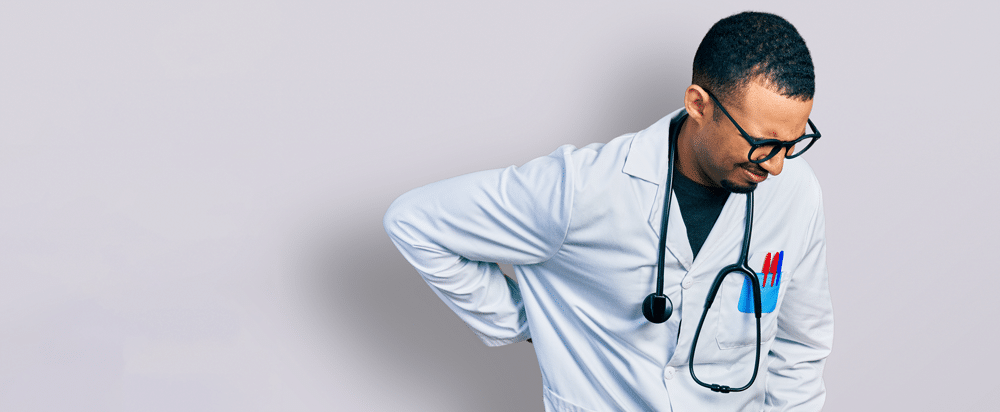 Tip 1 – Always carry out risk assessments
One of the best ways to prevent MSK injuries and problems is to thoroughly risk-assess the manual handling task that needs to be carried out, to reduce the risk of injury to all persons involved to the lowest level reasonably practicable.
Risk assessments should also be regularly reviewed and updated when necessary.
In a separate article, we share 5 of the best free risk assessment tools for you to use when required – you can read the article here.
Tip 2 – Use appropriate equipment
Always use appropriate patient transfer equipment where available, to reduce the risk of injury to yourself and the patient.
Equipment such as slide sheets or Rollboards can assist you in carrying out lateral transfers with minimal physical effort, and using equipment such as trolleys fitted with powered drive assistance will also reduce the physical strain on your body.
Tip 3 – Use safe and approved manual handling techniques
You should always use safe and approved techniques when carrying out any patient-handling tasks.  Failure to do so could result in musculoskeletal injury occurring that could otherwise be prevented.
Keep these basic patient lifting techniques in mind:
Get as close to the patient as possible to avoid bending over and putting pressure on your back.
Ensure your feet are stable on the ground and your knees are slightly bent.
Try to use your leg muscles more than your upper muscles when moving the patient.
Always avoid bending using your waist.
Align your head and neck to maintain the correct posture.
If you feel you require more training on safe manual handling techniques, your hospital will be able to provide this.
Tip 4 – Exercise regularly
Looking after patients in a hospital can be a physically active, demanding career.
You're often required to perform physical tasks safely and effectively, often at short notice, and as such, it's important that you exercise your body regularly to ensure you are in the best physical shape to prevent injury.
Also, doing some simple warm-up exercises before carrying out a manual handling task can help prevent strains and sprains and minimize overuse injuries that commonly occur during patient handling.
Tip 5 – Where possible, avoid manual handling tasks that could cause injury
This might sound basic, but if a manual handling task that is potentially going to cause injury can be avoided, you should always take this option. 
Before doing a risky manual handling task, consider:
Can the patient do the activity independently?
Can the operation be automated through the use of technology?
Can the treatment be brought to the patient, avoiding the need for a patient transfer?
---
Related articles
Ten Tips For Handling Bariatric Patients In Hospital
Rollboard vs Slide Sheets For Patient Transfers; Forces Compared
How Much Do Patient-Handling Related Injuries Cost The NHS?
---
Get in touch
Got a question or want to send us a message? Let's talk.
Author
Terry Smith