One of the Largest Care & Mobility Showrooms in the UK
Felgains in Ipswich are proud to operate one of the largest care products & mobility showrooms in the UK and stock a wide range of premium quality home living and mobility products available to buy in-store today.
Here at Felgains, we are leading experts in home living & mobility and have been trading in for well over 40 years. In this time, we have built, and continue to build, a solid reputation for excellence and pride ourselves on our sensitive approach and quality of service.
Our reputation is based on our caring approach which has family values at heart. We hope to inspire your confidence with our problem-solving ethos to find the right solution for your needs in a friendly, no-pressure environment.
Contact Details
Our Address
33 Knightsdale Road, Ipswich, Suffolk, IP1 4JJ
Opening Times
Monday-Friday: 08:00 – 16:00
Saturday: CLOSED
Sunday: CLOSED
Bank Holidays: CLOSED
Map & Directions
From our extensive care products & mobility showroom in Suffolk, we offer a wide range of products including bathroom & bathing aids, bedroom & dressing aids, home & kitchen aids, living room aids, mobility aids, personal hygiene products, safety & wellbeing products and stairlifts
Whilst all the products available in our showroom are also available to buy online via our easy to use website, we understand that in some cases our customers like to see and try a product before making a purchase. This is particularly true for larger items such as Rise and Recline Armchairs, Mobility Scooters and Electric Wheelchairs, where personal comfort is essential.
As you would expect, our showroom is fully accessible and boasts a disabled toilet and Changing Places facility. Our customer car park is located directly in front of the step-free entrance, and our showroom is spacious enough to accommodate the largest of wheelchairs and mobility scooters.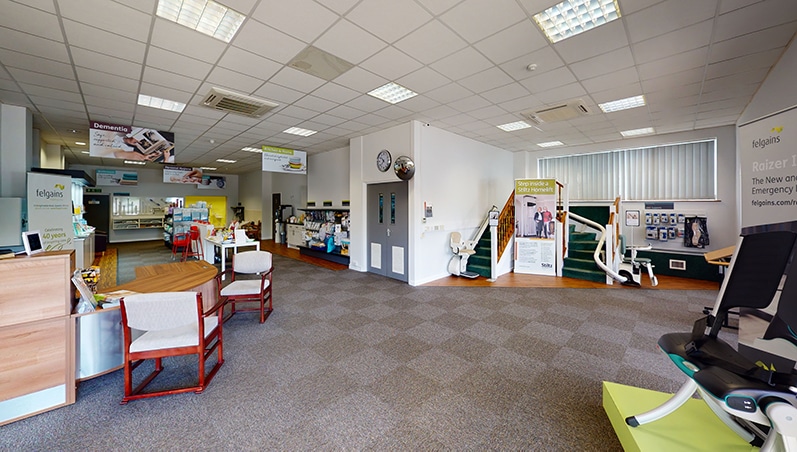 Care Products
Within our care products showroom in Suffolk, we stock a comprehensive range of care products designed to make life a little easier. In this department you will find everything from adjustable beds to walking aids, and a lot more in between.
Mobility Scooters
In our mobility scooter showroom in Suffolk, we stock a wide range of premium quality mobility scooters, and even have a dedicated area for customers to take a test drive should they wish.
Wheelchairs
Within our wheelchair showroom in Suffolk, we stock both manual and electric wheelchairs, from various manufacturers and again, have a dedicated area for customers to try before you buy.
Experienced & Friendly Showroom Staff
Staffed by our team of highly experienced and friendly experts who are always on-hand to discuss your requirements, we are confident that we can help you find the right product, no matter your requirements.
Why visit our showroom?
Try before you buy
You'll get a full product demonstration (and training) and will have the opportunity to try various options, so you can make sure you're completely comfortable before buying anything.
Get free advice
Visiting in person means you'll get personal advice and a proper assessment of your needs. We've been around for over 40 years so you can be confident you'll get advice you can trust.
A friendly, no-pressure environment
You will never experience any hard-selling – ever!
Local technical and after sales support
If you do have any issues, or you need more help with using your new equipment, we're only ever a phone call away.
At the end of the day, it's all about getting the right solution for you.
Felgains virtual showroom
Welcome to the new Felgains Virtual Showroom: scroll around as if you are really at the shop from the comfort of your chair. Navigate around the showroom exactly as you would on Google Street view.
Accessibility & parking
As you'd expect, our showroom is fully accessible, with a disabled toilet and Changing Places facility. The car park is right in front of the entrance, which is step-free. Inside, the showroom is spacious enough for wheelchairs, and our mobility zone has a large area for test drives.
Let us know you're coming...