October 22, 2018 |

Reuben Bush
#EndBedBlocking
Making beds from sandpaper, barbed wire and paper roses. It might not be the easiest way to spark discussion on delayed discharges, but the #EndBedBlocking art installations have done just that.
So what is #EndBedBlocking all about?
The campaign is a collaboration between elder.org and a group of artists who've all been affected by so-called 'bed-blocking'. Artists have created various installations with one common theme: at the centre of their piece, is a bed. Check out the full gallery here.
From Chichester Cathedral to Primrose Hill, pieces were displayed in prominent locations during October. As well as raising general awareness of the 'bed-blocking' problem, the campaign has three main objectives.
1. To eradicate the term 'bed-blocking'…
In favour of a new, universally-used term that better reflects the reality of the problem – mainly that it isn't the patient's fault. The term bed-blocking tends to be most prevalent in the media while 'delayed discharge' is more commonly used by health and social care professionals. Do you have an opinion on how we should refer to the problem? Take to twitter and air your views using #EndBedBlocking.
2. Understand the problem
The campaign suggests that despite 2.3 million discharge days being reported as delayed, the true figure is probably much higher. The King's Fund suggest that, although all hospitals are obliged to record data on delayed discharges, there are reasons why this data could be flawed. One reason could be that hospitals may differ in their interpretations of the categories that define the causes of delayed discharges. These slight variances in approach could have significant impact on the reliability of the data1.
3. Get people home
There are a range of complications that an unnecessarily prolonged hospital stay can cause:
Older people can lose 5% of their muscle strength per day if they don't keep active
Just 10 days of bed rest for a healthy, older adult can cost them the equivalent of 10 years of life in terms of damage done to strength and aerobic capacity
Older people are up to 574 times more likely to develop a life-threatening hospital infection, such as MRSA2
Additionally, in a bid to reduce delayed discharges, healthy patients are sometimes discharged to care homes while appropriate care packages can be put in place. This can unintentionally lead to individuals who were previously living independently to remain in residential care. Residential care is usually more expensive and, more importantly, can often have a negative impact upon individuals' wellbeing.
So what actually causes delayed discharges, or 'bed-blocking?
The single biggest reason for delayed discharges in 2016/17 was awaiting a care package to be put in place in the patient's own home. Awaiting community equipment and adaptations was also a large factor, contributing around 50,000 delayed transfers.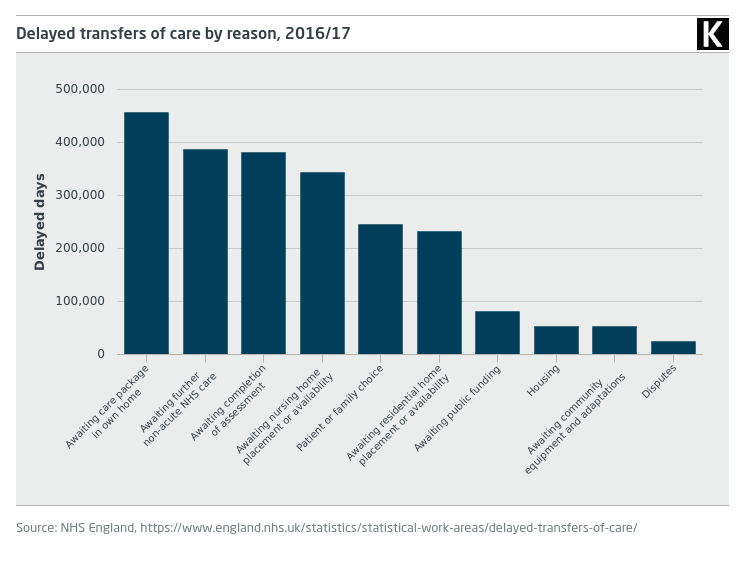 So what's the solution? More funding for social care? Probably. Better integration across teams with more streamlined processes? Maybe. The reality is, the solution is probably made up of multiple factors.
Of those factors, we do think single-handed care has a significant role to play. A report from the Department of Health revealed there were 90,000 vacancies in the care sector last year3. And with the possible consequences of Brexit looming on the horizon (EEA nationals currently comprise 7% of the work force) teamed with a predicted three-fold increase in the number of over-80s by 2050, the care shortage is only set to worsen.
So if single-handed care means one carer can do a job that previously required two, surely it will help us to stretch our precious resources further.
The VENDLET can help get people home
The VENDLET Patient Turning System enables just one carer to turn a patient in bed.
References
1. https://www.kingsfund.org.uk/publications/delayed-transfers-care-quick-guide
2. https://www.england.nhs.uk/wp-content/uploads/2017/12/framework-maximising-appropriate-use-of-care-homes-cohort-caring-mffd.pdf
3.https://assets.publishing.service.gov.uk/government/uploads/system/uploads/attachment_data/file/693468/Department_of_Health.pdf
Author
Reuben Bush
Reuben joined the Felgains team in August 2019, bringing with him passion and experience in marketing and design – from a rather different sector. His focus is now on improving each and every touchpoint of our customer experience and building a vast following of raving fans! He loves road cycling, and also happens to have rather a weakness for food – he's a bona fide chocoholic!