June 2, 2023 |

Terry Smith
Felgains ImageFlow Stretcher vs Imaging Table; what is the difference?
A common question we get asked is; What is the difference between the Felgains ImageFlow stretcher and an imaging table, and which should we be using in our imaging department? 
There are some key points to consider when comparing imaging tables with the ImageFlow stretcher, which we will cover in this article:
Patient transfer
Cost
C-arm compatibility 
What is an Imaging Table?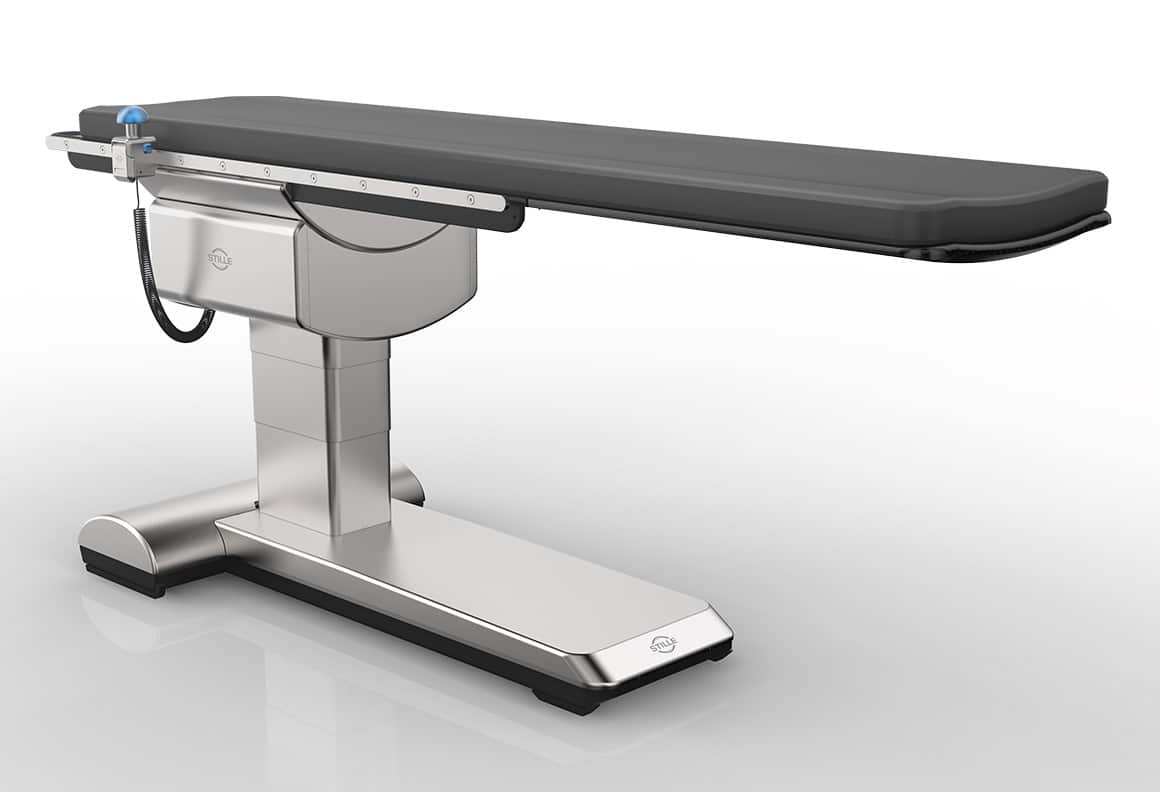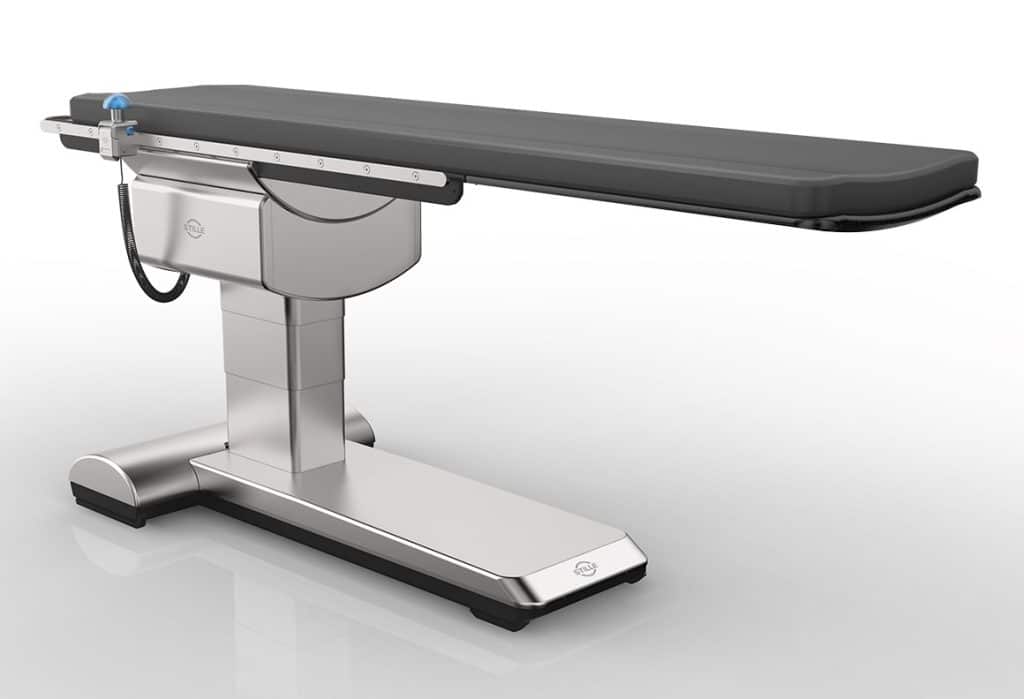 Imaging tables are specialized procedure tables designed to be used in various imaging procedures like ultrasound, radiology, and surgery, and for use with C-arm cameras. 
Key features of imaging tables:
Excellent C-arm clearance – Most imaging tables are designed with a single actuator column and a lot of space under the mattress platform, offering excellent clearance for a C-arm camera and artefact-free imaging. 
Movable top – Most imaging tables will have the option to move the top horizontally, in a similar way to the ImageFlow stretcher. Higher-end and more costly imaging tables will allow you to freely move the top, either horizontally, laterally or diagonally, enabling you to easily achieve accurate positioning for imaging. 
Thin top for artefact-free imaging – Imaging tables are designed to have thin, radiolucent tops, to ensure images are artefact-free.
What is the Felgains ImageFlow stretcher?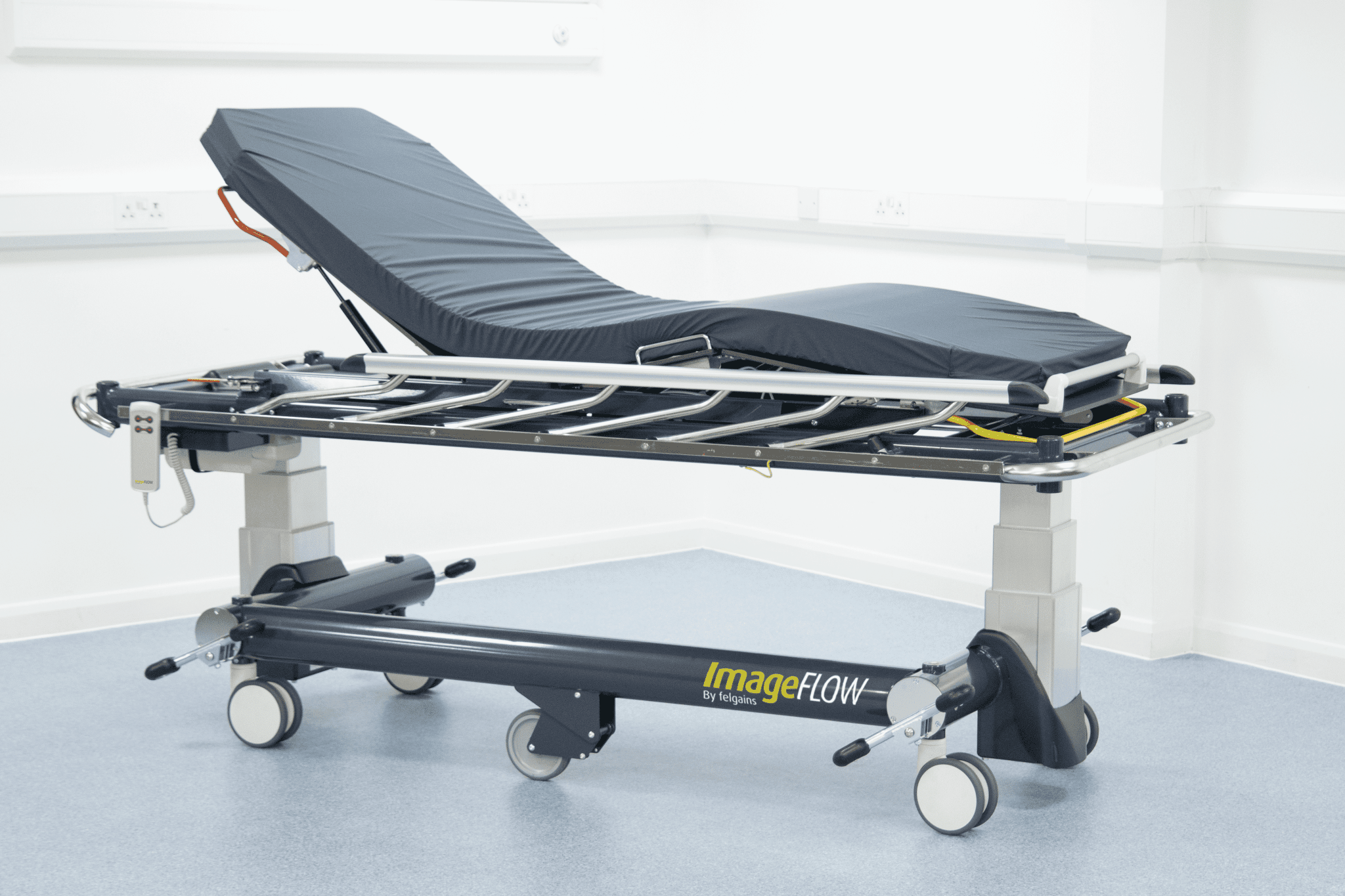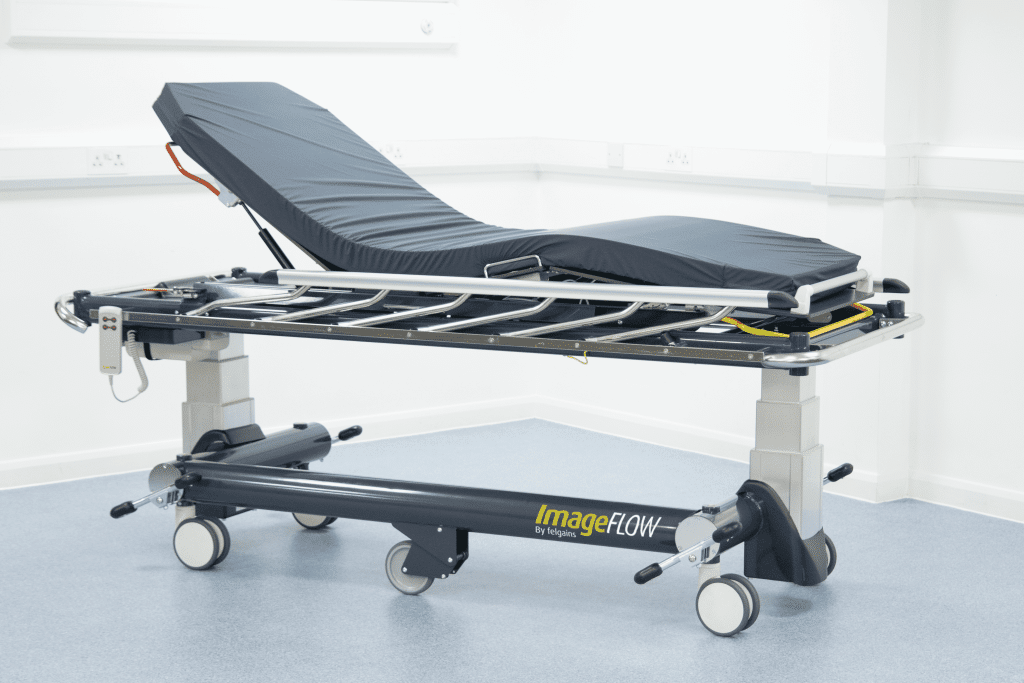 The Felgains ImageFlow is a hospital imaging stretcher specifically designed for use with a C-arm, in procedures such as Endoscopy and Fluoroscopy.
The ImageFlow is designed to solve problems with inefficient patient transfer and reduce manual manoeuvring of C-arms and repositioning of patients whilst imaging. 
Key features of the ImageFlow:
One trolley for multiple tasks – As well as being suitable for multiple different procedures such as therapeutic Endoscopy, Fluoroscopy and any task requiring the use of a C-arm, the ImageFlow can also be used for patient transport, right through from your ED department to the imaging department. This removes the need to transfer the patient on and off an imaging table from a separate patient stretcher. 
Sliding top – The mattress platform on the ImageFlow slides 490mm horizontally, up and down, greatly reducing the need to move the patient, trolley base or C arm, and enabling you to easily achieve accurate positioning for imaging. As well as increasing efficiency in your imaging department, this reduces the risk of musculoskeletal injury to your staff. 
U-shaped base – The U-shaped stretcher base enables you to position a C-arm camera very close to the trolley and offers good clearance for the camera, enabling you to capture clear images exactly where you need to. 
5th wheel – The retractable 5th wheel on the Fluoro-Track stretcher makes the stretcher easy and intuitive for staff to move around your hospital, which is especially useful in compact hospital environments such as imaging rooms.
High safe working load – The ImageFlow has an industry-leading safe working load of 320kg SWL, meaning you are able to use it with more patients and also those previously unable to access such treatments due to low safe working loads. 
ImageFlow vs Imaging Table – Patient transfer comparison
One of the main differences between the ImageFlow stretcher and imaging tables is that the ImageFlow is designed to transport a patient to and from an imaging department as well as to be used during the actual procedure.
In comparison, an imaging table is primarily designed to be used during imaging procedures and isn't designed for patient transport. Instead, the patient will have to be transported to the department on a separate patient stretcher and transferred onto the imaging table. This increases the number of patient transfers carried out, which has a negative impact on efficiency and the risk of injury. 
ImageFlow vs Imaging Table – Cost comparison
The majority of imaging tables are more costly than the ImageFlow stretcher, with most imaging tables costing between £15,000 and £25,000. Higher-end imaging tables with functions such as free-floating tops can cost up to £50,000. 
By comparison, the ImageFlow stretcher costs £9,666 exc. VAT, or £11,599.20 inc. VAT.
Related article: How much does the Felgains ImageFlow stretcher cost?
ImageFlow vs Imaging Table – C-arm compatibility comparison
Both the ImageFlow stretcher and imaging tables are designed specifically to be compatible with C-arms, with large clearance areas and radiolucent tops.
Some of the cheaper imaging tables have fixed tops, which is a disadvantage when compared to the ImageFlow, which has a sliding top to assist in achieving accurate positioning for imaging. 
At the other end of the scale, the most expensive high-end imaging tables have completely free-floating tops, which is an advantage over the solely horizontal movement of the ImageFlow top, as it allows the staff to more easily position the patient for imaging. 
---
Related articles
How to avoid injury when moving and using a C-arm camera for fluoroscopy
The 5 best Fluoroscopy and Imaging stretchers in 2023 – a complete comparison
Felgains ImageFlow Stretcher vs Stryker Fluoroscopy Stretcher – an honest comparison
---
Get in touch
Got a question or want to send us a message?  Let's talk.
Author
Terry Smith