August 18, 2023 |

Natalie Webber
What is a made to measure riser recliner chair? What to expect, options & limitations
Chances are, if you've been doing some research on made to measure rise and recline chairs, you've seen terms like 'made to order' and 'bespoke' riser recliner. You may even have seen phrases like 'made to fit' or 'tailored to your measurements', then get a list of sizes to choose from! You'd be forgiven for asking: what exactly is a made to measure riser recliner?
Because we're big believers in giving you transparent, honest advice, we can't let this go unanswered. You deserve to know what's what.
So, read on if you want to find out:
• What does made to measure mean
• What options are available
• How it's made
• Limitations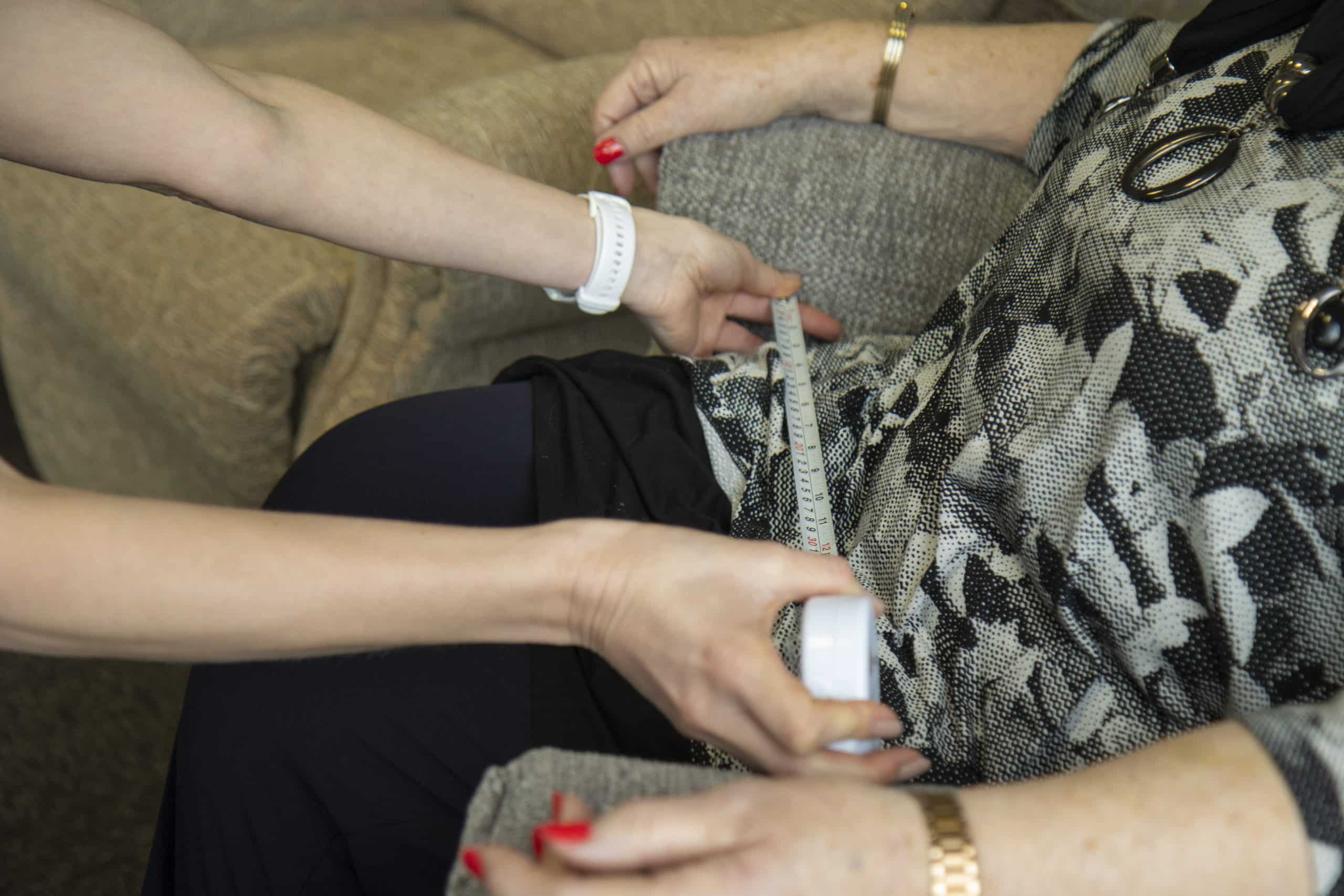 What does made to measure mean?

Most riser recliners will come with a choice of standard sizes (sometimes as many as 5-7), one of which will provide a reasonable fit for most people. So, to square with you, you can probably see why you could advertise a riser recliner chair as made to measure when, in fact, you might just be fitting someone into one of several standard sizes. A made to measure riser recliner chair is built to your size, so it means you can customise the dimensions of the chair beyond standard sizes.
So, what dimensions can you customise on a made to measure chair? To be truly made to measure, you should be able to customise at least 5 key dimensions: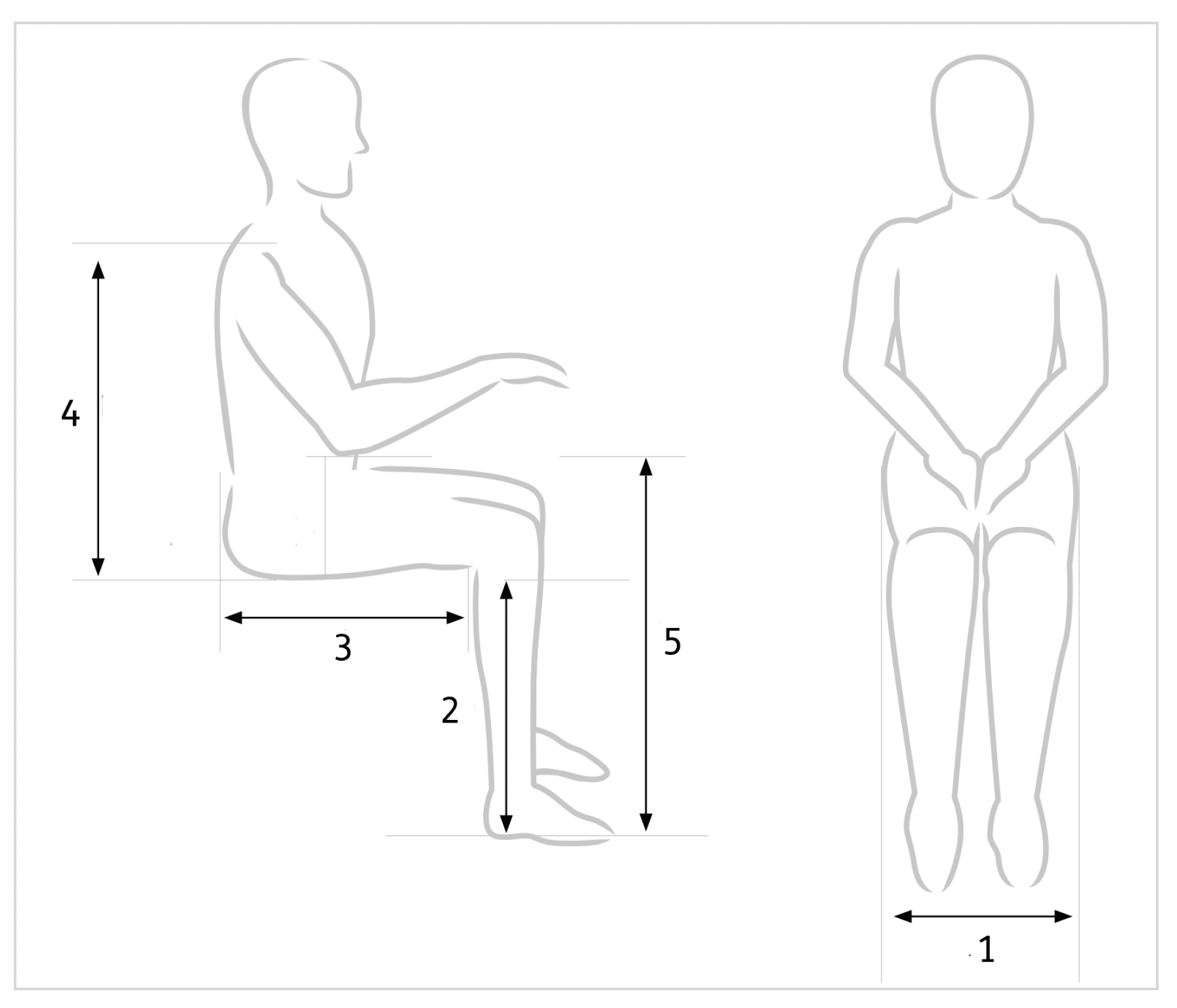 Seat width

Seat height

Seat depth

Back height

Arm height
A made to measure armchair is based on your body's measurements, as shown in the diagram. It is critical that these measurements are accurately recorded. To see how to do this properly, read our blog on taking measurements for a riser recliner chair.
What's the purpose of a made to measure riser recliner?

A made to measure rise and recline chair provides a more precise fit, so you get a correctly fitting chair that enables good posture. Now, we're all used to making do, so you may be asking yourself if it really matters that much. The truth is, sitting in a good posture does offer real benefits, particularly if you're likely to spend a good deal of time in your chair. Obviously, you're going to be more comfortable, but the benefits can also include prevention of pressure sores, as well as improved circulation and joint health.
It's also about your safety in the chair. For example, if the seat height is too high for you, your feet will lose contact with the floor as the chair raises, putting you at risk of falls.
Do you have the usual list of options?

Absolutely, you have the full range of options, starting with a choice of motors/mechanisms. This means you can choose a single motor, dual motor, or even a bariatric triple motor made to measure riser recliner. Note that the mechanism you choose may impact the sizes available (more on that below).
Then you should be able to select a backrest style, type of seat cushion, upholstery and decide if you need any optional extras like battery back-up.
Is made to measure the same as a bespoke riser recliner chair?

Generally, these terms are used interchangeably. However, a bespoke rise and recline chair could be a standard size with optional extras (i.e., it's made to order). So, if you need a made to measure riser recliner, make sure it's just that – made to measure!
How is it made to measure? Are there any limitations?

Let's take the typical range of seat dimensions available for a made to measure dual motor riser recliner:
Seat height: 16-22 inches

Seat width: 16-35 inches

Seat depth: 18-22 inches
You may assume you can choose any combination of measurements within these ranges. Much as we would love to be able to offer you this, it isn't always possible.
Why? A made to measure riser recliner chair is built to your size by first adjusting the dimensions of the chair's frame. The size of the frame is also dependent, however, on the mechanism of the chair (what motor is has, which determines how the chair moves). The various mechanisms require different frames around them, and, like everything, these do have some sizing constraints.
However, if a seating provider knows their stuff, this is where experience and a little creativity go a long way.  The fact is, there are other parts of seating we may be able draw on to further adjust sizing to where it needs to be, for example, to achieve a seat depth of 14 inches. These include, but are not limited to:
Mechanism

Backrest style e.g., a waterfall back may provide a shorter seat depth than a button back

Seat depth reducer pads
Of course, this must always be assessed holistically to ensure all aspects meet your needs.
The result is that, using a combination of the above, it's possible to cater for the vast majority of shapes and sizes, from super petite to bariatric, and anything in between.
At this point, we should make something clear. This is never about doing a 'bodge job' or using something it's not suitable for. So, like all things in life, be a little cautious of someone who promises they can make absolutely any size chair. Sometimes, it's necessary to find an appropriate compromise, or alternative that achieves the same purpose.
A real example of a made to measure riser recliner

As we've discussed, sometimes we can make a made to measure riser recliner with straightforward sizing adjustments. Other times, it requires more complex configuration. To illustrate this, here's an example of each.
---
Related articles
What is a single motor rise and recline chair? Your Ultimate Guide
What is a dual motor rise and recline chair? Your Ultimate Guide
---
At Felgains, we supply riser recliner chairs so you can enjoy a better day with increased independence. Established in 1977,

we've

been fitting people with riser recliner chairs for 45 years!

If

you're

shopping around, you can

take a look

at our riser recliners

, talk to our trusted team on 01473 741144

or visit our

Ipswich showroom.
Get in touch
Got a question or want to send us a message?  Let's talk.
Author
Natalie Webber