March 16, 2023
How HelpFall Is Transforming Post Falls Management In Care Homes | The SNEE ICB Story
Case Study at a Glance
Suffolk and North East Essex (SNEE) ICB were experiencing high numbers of ambulance call-outs and hospital admissions as a result of falls in care homes, largely due to outdated safeguarding policies and procedures and a lack of appropriate tools amongst care homes to allow them to respond to falls themselves.  
By implementing Raizer Lifting Chairs alongside the HelpFall Post-Falls Decision Support Tool in care homes, SNEE has successfully empowered and upskilled care home staff to safely assess and respond to falls.
As a result, they have witnessed significant improvements to the outcomes of falls in care homes, with an 84% reduction in ambulance call-outs to care homes and the percentage of non-abnormality conveyances dropping from 27% to 0%.
The Headline Stats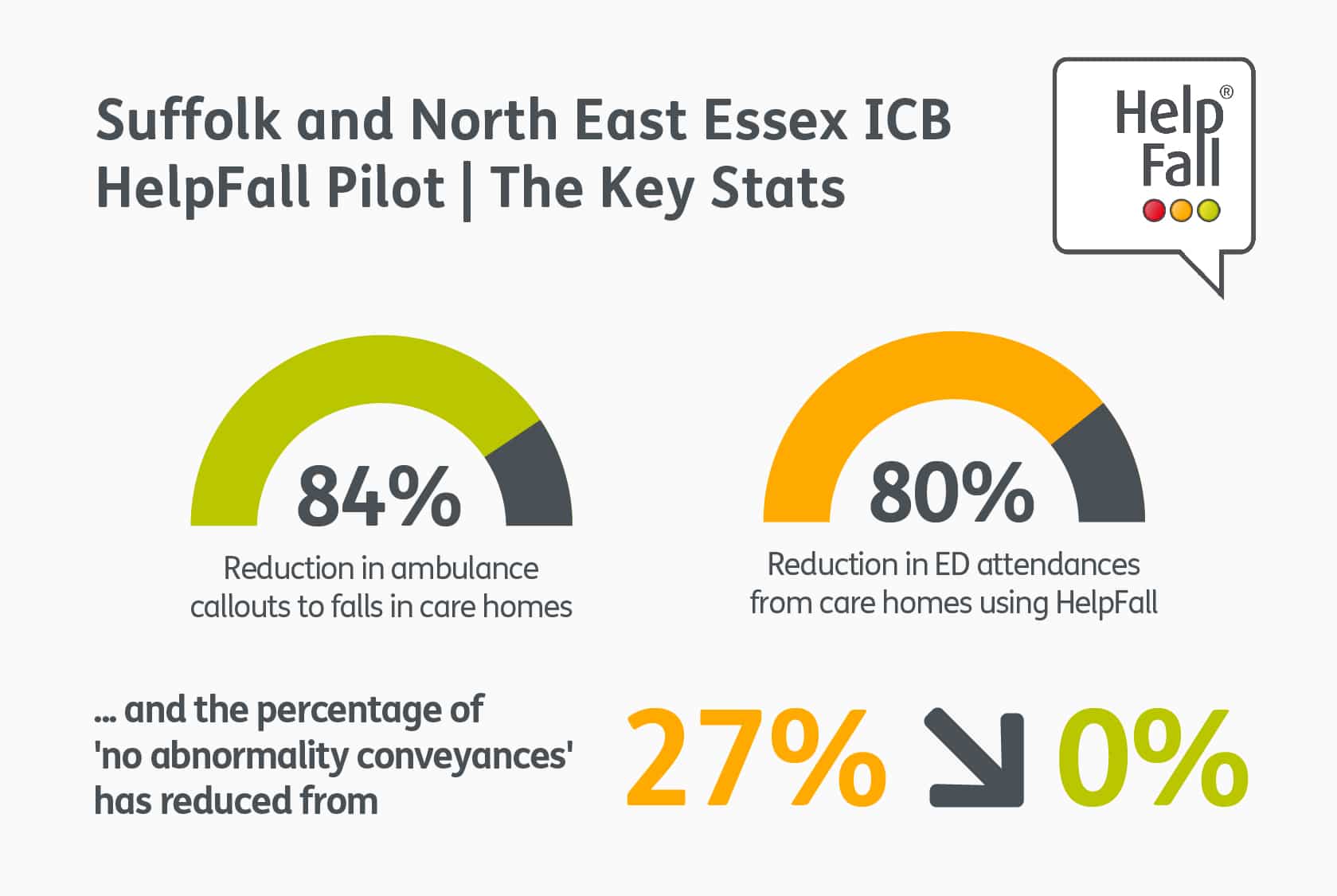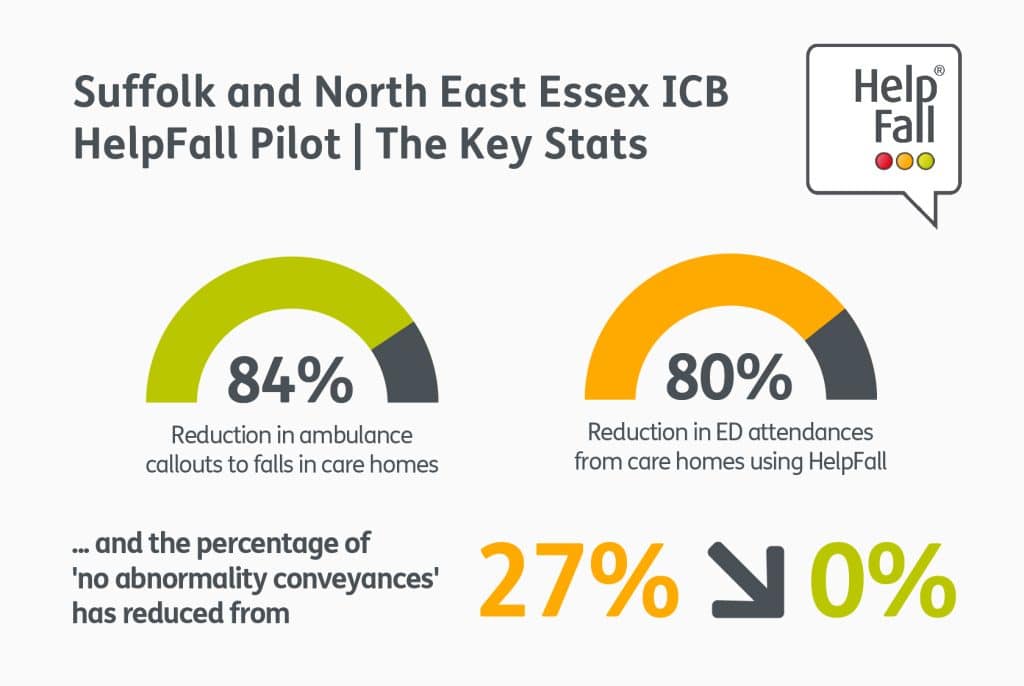 The Case Study Video
The Challenge: Non and Minor-Injury Falls In Care Homes
A lack of confidence amongst care home staff to respond to falls in care homes was causing high numbers of ambulance call-outs to care homes within North East Essex.
Due to the care home staff not having the training or tools to safely assess and respond to fallen residents themselves, they were reticent to attempt to lift someone up from the floor, fearing the resident may have injuries and lifting them would cause more damage.
As a result, care homes defaulted to calling 999 to respond to falls, putting pressure on the already stretched ambulance service and putting the residents at risk of further harm from long lies.
"Before we had the Raizer 2 and HelpFall, it would purely be a judgement call, which would result more than likely in a 999 call."
Georgia Edwards, Senior Care Assistant | Woodlands Care Home
Since Covid, SNEE has seen the ambulance response times to category 3 and 4 calls greatly increase, leaving low-priority calls such as falls having very long response times. By having to respond to unnecessary calls such as non-injury falls, the ambulance service was not able to respond to the people that really needed it, when they really needed it.
The Solution: Enabling Care Homes to Safely Assess and Respond to Falls Themselves
Finding the solution
To decide on the best solution for enabling care homes to assess and respond to falls, SNEE carried out an options appraisal for lifting equipment and post-falls decision-making tools, and as a result, they chose the Raizer Lifting Chair and HelpFall.
SNEE chose to roll out HelpFall because of the following reasons:
It's simple and easy to use; the QR code to access HelpFall is on the Raizer Chair and the questions are worded very clearly, giving the caregiver confidence in their decision.
Where traditional tools would suggest calling 999 for any minor injury fall, HelpFall suggests these falls could be responded to by the care home or Urgent Community Response service, to reduce pressure on the ambulance service and provide the best outcome for the resident.
"It's that 'so what' element……yes, someone may be hurt, and it may not seem safe to pick that person up, but do you have to call 999? Maybe not."
Mark Shorter, Transformation Lead | SNEE ICB
To fund the project, SNEE utilised some national funding from NHS England designed to support the Ageing Well programme within the ICB's area.
How the solution was implemented
Suffolk and North East Essex ICB identified 20 care homes in their area to pilot the Raizer lifting chair alongside the HelpFall post-falls decision support tool. To ensure the care homes were fully on board, SNEE contacted each of them to talk through the benefits they were likely to see, both for the residents and care home staff, and the impact they would be having on the whole system. The care homes also signed a Memorandum Of Understanding document prior to the pilot starting, which ensured the ownership and liability of the equipment were clarified. 
To maximise the success of the pilot, Felgains delivered face-to-face training to every care home, training the staff on how to safely assess a fallen resident using HelpFall, and how to lift a resident using the Raizer Lifting Chair.
Felgains and the SNEE Care Home Nurses have also been in contact with the care homes frequently, supporting them with follow-up training where necessary, and collecting qualitative feedback and quantitative data for SNEE ICB.
The Impact and Results: Increased Confidence and Reduced Ambulance Callouts
The feedback and data that Felgains collected from the care homes, alongside the reports generated from the HelpFall tool, have given SNEE ICB clear visibility of the impact and results of the project.
Upskilled and confident care home staff
HelpFall is giving the care home staff confidence to assess fallen residents and gives them peace of mind that they are doing the right thing​ for the resident.
"[The staff] are more confident in handling a fall. They can just get HelpFall, and they can follow the instructions – it's almost like there's a little bit of pressure that's been released from them."​ 
Kate Perkins, Deputy Manager | Milton Lodge Care Home
Reduced ambulance callouts to care homes​
Rolling out HelpFall and the Raizer Lifting Chairs into care homes has resulted in an 84% reduction in the number of ambulance callouts to falls. This is freeing up the ambulance service to improve response times to category 1 and 2 callouts and reduce handover delays.
No-abnormality conveyances reduced from 27% to 0%​
No-abnormality conveyances are unnecessary conveyances to hospital where there is no injury or complications apparent.  They are typically a result of an unnecessary ambulance call-out due to a failure to suitably assess a fallen person before calling 999 and cost the NHS precious time and money that could be spent on more urgent calls.
Before the project, SNEE were seeing a 27% no-abnormality conveyance rate from falls, and with the intervention of HelpFall and the Raizer this has been reduced to 0%.
Prevention of long lies​
By enabling the care homes to respond to falls themselves, residents who suffer non or minor injury falls are experiencing much faster response times, compared to having to wait for an ambulance.
This is reducing the amount of long lies that are occurring as a result of falls, and improving the quality of care in the care homes.
Related article: What Is a Long Lie Fall? Causes, Impact, and Prevention
What's Next For SNEE ICB?
Suffolk and North East Essex ICB are actively working on expanding the project across the rest of the care homes in the ICB's area, which they expect will result in significant improvements to the outcome of falls in care homes and the impact falls have on emergency services. 
"I think the HelpFall app being available to all of our Care Homes across not only Suffolk but North East Essex as well will enable a short simple decision-making process that will reduce the number of people being conveyed to hospital. 
It's a very simple thing that could have quite a significant impact on our system." 
Mark Shorter, Transformation Lead | SNEE ICB
Learnings & Conclusions
By implementing Raizer Lifting Chairs and the HelpFall Post Falls Decision Support Tool in Care Homes, Suffolk and North East Essex ICB are:
Empowering care home staff and giving them the confidence to respond to falls
Reducing ambulance callouts by 84%
Reducing no-abnormality conveyances from 27% to 0%
Improving ambulance response time to category 1 and 2 callouts
Reducing long lies and improving the outcomes of falls for residents.
How To Implement This In Your ICB
Having seen the positive impact that this project has had across South and North East Essex, how do you see this benefitting your ICB?
We can work with you to develop a bespoke solution that is tailored to your specific needs and that is guaranteed to significantly reduce ambulance callouts and improve the outcomes of falls in care homes. We can partner with you right from the initial project scoping through to monitoring, reporting and implementation.
To get the conversation started, feel free to call us on 01473 741144, email us at [email protected], or contact us using the form below.
---
Get in touch
Got a question or want to send us a message?  Let's talk.