A Guide to Electric Wheelchairs
In our guide to electric wheelchairs, we'll explore what an electric wheelchair is, why an electric wheelchair may be preferable to a manual wheelchair, as well as what factors to consider when choosing an electric wheelchair. We'll also take a look at some of our most popular models.
What are electric wheelchairs?
Electric wheelchairs are, quite simply, wheelchairs with electric motors. The electric motor provides the propulsion needed to drive the chair, rather than the manual force needed for a standard wheelchair. Electric wheelchairs, also known as powerchairs, motorised wheelchairs, or powered wheelchairs, consist of three basic elements: a power base which contains the motor, a seat and a set of controls.
There are many reasons why a person may choose a motorised wheelchair over a manual wheelchair. Firstly, the electric motor means getting around requires no manual effort. This is ideal for a person who:
wants to undertake longer journeys without the effort and stamina required by a manual chair
is unable to propel themselves due to a health condition or age, and does not wish to rely on others to get around
They're also a great option if you want to explore the outdoors. Features such as outdoor tyres, long-lasting batteries and mid-wheel drive for superior manoeuvrability can make exploring both urban and rural areas easier in a powered off-road wheelchair versus a manual wheelchair.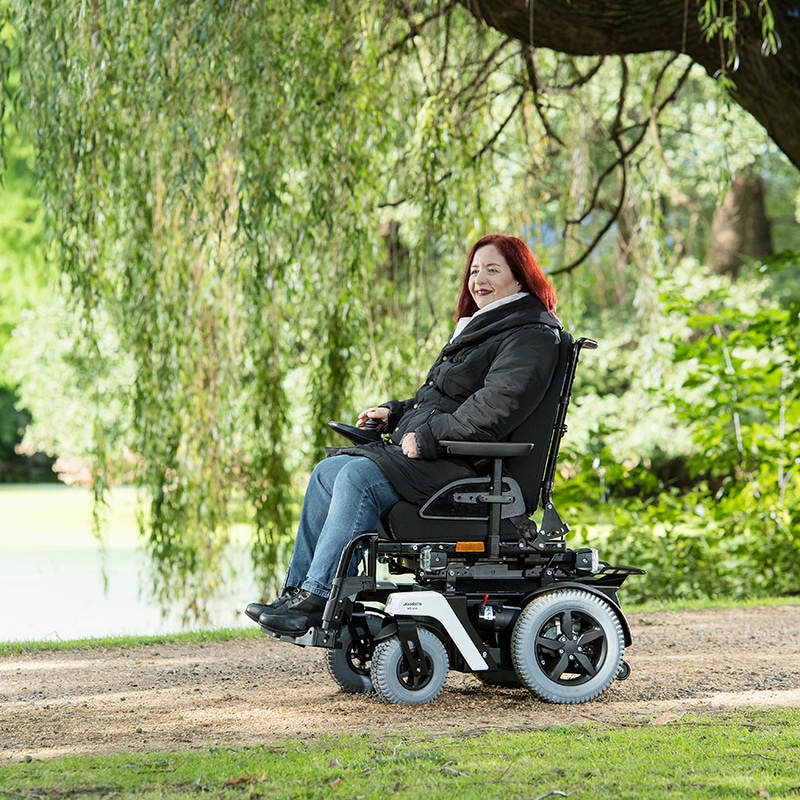 Customised Electric Wheelchairs
A customised electric wheelchair is ideal if you intend to spend a lot of time in the wheelchair, as they can be made-to-order to suit your specific needs. The huge scope for adaptations to suit your own requirements means that customised electric powerchairs can offer superior comfort.
Tailored options include a custom seat, backrest, armrest, leg rest and additional supports to fit your own unique body shape, size, and seated position for a more comfortable ride. Features can also be added or modified to suit your intended use.  For example, if you lean to one side, an armrest or lateral support can be fitted for support in your optimum position.
Motorised parts on the chair also allow you to change your position at the touch of a button. This is important not only for comfort but changing positions regularly can also help prevent pressure damage. Rise and tilt can also help you mobilise to a standing position.
It's important to note that while some electric wheelchairs, particularly folding electric wheelchairs, are suitable for transporting in a car, they are often much heavier than a manual wheelchair.
What should you to consider when buying an electric wheelchair?
Different electric wheelchair models excel for different uses and environments. For example, if you're planning on exploring the great outdoors, a model with big wheels could help you cross more challenging terrain. Whereas if your primary environment will be indoors, a model with smaller wheels can help you negotiate tight spaces. Additionally, if you're planning on longer journeys, battery life should be a key consideration.
You should also factor in how frequently you'll be using your chair. Prices for electric wheelchairs can vary greatly – if you're going to be using your new chair heavily, it might be worth making a greater initial investment for a chair with superior durability. Whereas if you're only planning to be an occasional user, a cheaper option may suffice.
You may also wish to contemplate whether your needs are likely to change in the future. Certain health conditions mean that it's probable that your body shape and position will alter over time. Is your use for the chair likely to change? Perhaps you're hoping to take the chair into different locations in the future – perhaps on family holidays? Or into a work environment? In this case, it may be better to design a chair that is future proof, rather than make subsequent modifications or have to purchase potentially expensive add-ons.
Budget, of course, will also be a key influence on your decision. As we mentioned earlier, the prices of electric wheelchairs vary considerably, and depending on your needs, you can expect to invest anywhere between £1,500 and £12,000.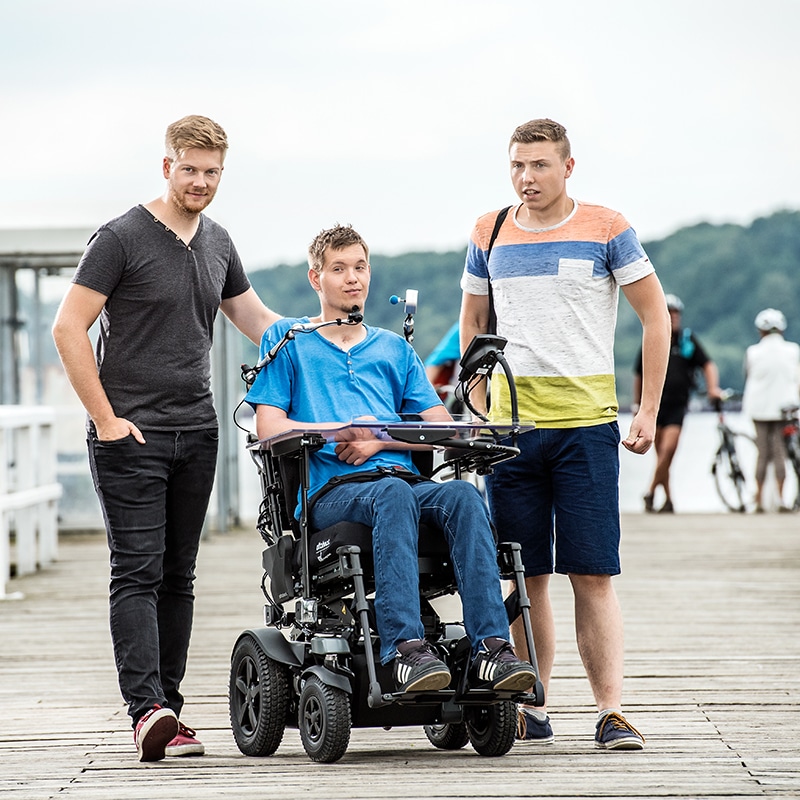 What influences the price of an electric wheelchair?
The large range in prices of electric wheelchairs reflects the scope of their customisation options. You could pick up an 'off-the-shelf' model for indoor use, such as the Pride GoChair, for around £1,500.
It's important to remember that the price doesn't reflect the quality, rather the scope for use and one-size-fits-all approach. The Pride GoChair is an excellent option if you're seeking a chair for light indoor and easier-to-traverse outdoor terrain (typically the flat, even surfaces more common in urban areas) and do have any specific requirements for body shape, size, or position.
At the other end of the scale, a larger investment could secure you a highly customised electric wheelchair which can cope with most environments, including challenging outdoor topography such as hills and cobblestones.
For example, the Invacare Aviva RX Powerchair is a high-performance electric wheelchair that's ready to take on long distances, and hilly, uneven outdoor surfaces. The powerful lighting system ensures you can see and be seen once the sun goes down. And a choice of seating systems means you'll always be in your most comfortable position, even if your postural requirements change over time.
The Quantum Edge 3 Stretto Powerchair is also an excellent choice if you need to negotiate extremely confined indoor spaces, as it has an ultra-narrow mid-wheel base. It's also a great solution if you need a fully modular powerchair for more advanced postural needs, or you're looking for an electric wheelchair that will cater for changing needs in the future.
Why is it important to get professional advice when buying an electric wheelchair?
As you'll have gathered, the beauty of electric wheelchairs is that they offer endless possibilities. However, this can make for a confusing market.
To help you in choosing the right electric wheelchair for your needs, why not give us a call to discuss your requirements? We've been helping people to choose the right mobility solutions for over 40 years, and our experienced team will be able to suggest models that will cater for your body shape, condition, lifestyle, and budget. We also provide ongoing support and servicing for your new chair, and our team are only ever a phone call away.
We can offer advice over the phone or welcome you into our Ipswich showroom, one of the largest care and mobility showrooms in the UK, where we have a great range of models available for you to try out. We may also be able to order non-stock models in on request. And if you can't make the journey, we may also be able to come to you.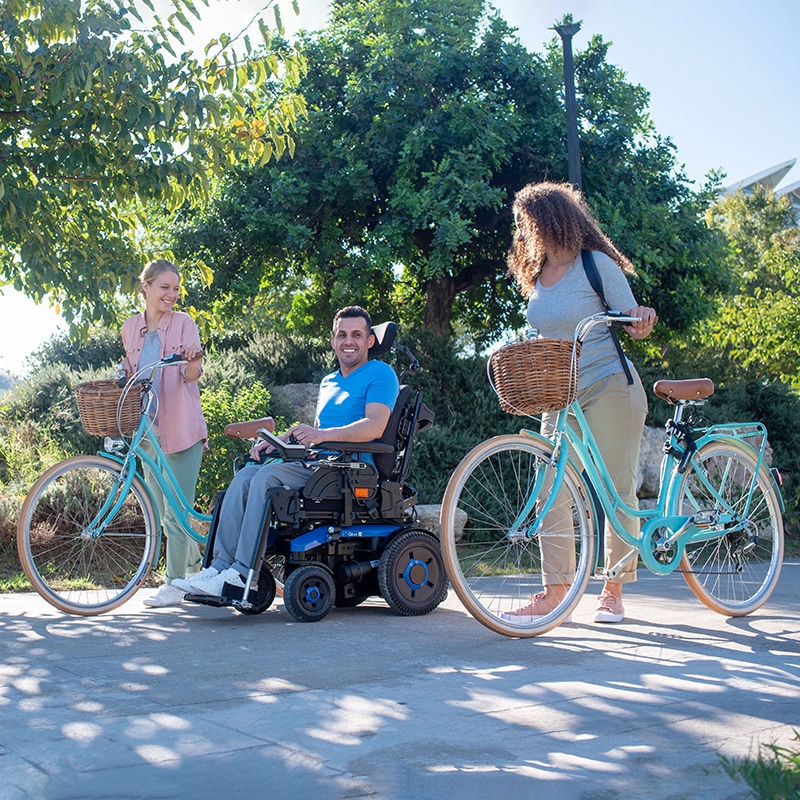 Get in touch to talk about your new electric wheelchair today