August 18, 2022 |

Reuben Bush
Frequently Asked Questions about the Raizer Chair in Domiciliary Care
Many domiciliary care agencies have a challenge with clients who fall. Finding a client on the floor when arriving for a visit often then results in an ambulance callout and a long wait for an ambulance. However, an increasing number of domiciliary care providers, such as Home Instead East Herts & Uttlesford, are successfully using the Raizer Lifting Chair in their agency to lift fallen domiciliary clients. This is helping them improve outcomes, reduce ambulance callouts and save staff time.
In this blog article, we'll answer some of the most common questions we get from domiciliary care agencies about the Raizer Chair and responding to falls in domiciliary care environments, using examples from just a few of the clients we work with.
Here is how Home Instead East Herts & Uttlesford did it
Please scroll to the bottom of the page to read the video transcript
What did you do before you had your Raizer? What was the problem?
Before the Raizer, when arriving at a client's house to find them on the floor following a non-injury or minor injury fall, caregivers would normally have to dial 999 for an ambulance. That caregiver would then have to wait often up to 7 hours with the client for the ambulance crew to come out and lift the fallen person.
This has both service and financial implications. As the caregiver cannot then fulfil their other appointments during that time, the Care Agency instead has to coordinate another caregiver to carry out those other appointments. This disrupts the caregivers' schedules and lowers their level of service to other clients. And as the caregiver cannot leave the fallen person, the client has to be charged for the time spent with them, and Home Instead has to pay the caregiver for the time they spend at the client's property.
This waiting time also often results in a long lie. The resulting deconditioning from this long lie means that in many cases, even if the person was not injured in the fall, the deconditioning from the long lie results in a hospital admission. Home Instead Exeter and East Devon found that prior to using the Raizer Chair, 57% of their clients who had a fall would end up being admitted to hospital1 (read on to see what they reduced this to).
How have you implemented the Raizer?
Home Instead East Herts & Uttlesford have 2 members of staff who are fully trained on using the Raizer and take it in turns to be on call with the lifting chair. When a caregiver arrives at a client's property and finds the client on the floor, or a family member calls to inform them of a fall, one of the 2 Raizer trained personnel will drive to the clients house with the Raizer Chair.
They then carry out an assessment of the client to check they have no injuries – using the Home Instead organisational lifting policy which sets out how to use the Raizer and when / when not to use it. If the client passes the assessment, they will lift them up from the floor using the Raizer Chair and assist them into a chair or wherever they feel comfortable.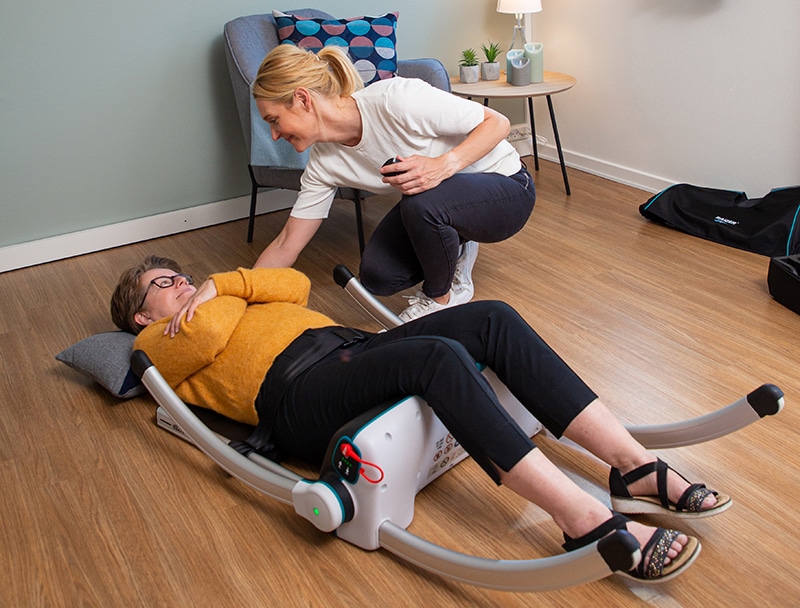 How has the Raizer impacted your service to your clients?
The Raizer has had an overwhelmingly positive impact on the service Home Instead East Herts & Uttlesford provide to their clients. It enables them to reassure the client that they are more likely to be able to stay at home. Having the Raizer chair eliminates the potential 6 – 12 hours time waiting with a client who has fallen but not injured themselves. As a result, Home Instead do not have the extra payroll cost of the caregiver waiting with that client, and the client does not have the charge of the caregiver for the waiting time.
And of course it reduces hospital admissions. Once a client is admitted to hospital they could be there for weeks for checks and assessments, but preventing that by using the Raizer enables the client to stay at home – as is their wish. In fact, Home Instead Exeter and East Devon found that by triaging clients who had fallen and then – when appropriate – lifting them using the Raizer Chair, enabled them to reduce their hospitalisation rate following a fall from 57% down to just 10.7%1.
In short, it's a win-win for everyone.
What wider impacts does this have?
Preventing hospitalisations has a significant impact on the NHS. NHS statistics estimate that the average cost of hospitalisation following a non-injury fall is £5000 (including admission, bed stay, checks and more).
In one year, Home Instead Exeter and East Devon prevented 92 hospitalisations using their traffic light triage tool and the Raizer. That equates to an approximate saving to the NHS of £460,000 in one year – and that is only one Dom Care office! Hundreds of millions of pounds of taxpayers money could be saved each year if this approach was used across home care in the UK.
Have you told your insurer about your Raizer? And has this affected your premiums?
Home Instead East Herts & Uttlesford have informed their insurer of their use of the Raizer Chair. The Raizer Chair is classed as a piece of moving & handling equipment, so – much like other moving & handling equipment – as long as the caregivers using it are trained and competent, there should be no additional cost.
Any other ideas for how to use the Raizer to develop your service?
Home Instead East Herts & Uttlesford are in conversations with their local ambulance trust to respond to fallers in their catchment area on behalf of the ambulance service. If Home Instead can prevent unnecessary ambulance callouts to a non-urgent falls, then the ambulances can respond quicker to more urgent callouts. And not only does this support the local community, it provides an opportunity for Home Instead to get in front of potential new clients!
Speak to an expert today about implementing falls response in your Dom Care Agency
Has this inspired you to look at implementing Raizer Lifting Chairs in your Domiciliary Care organisation? Or do you have some more questions that we haven't answered in this article?
Get in touch with us today to find out more
---
Citations
1: https://www.homeinstead.co.uk/mid-devon/home-instead-cutting-nhs-costs-through-innovation-1/
---
Video Transcript
If you look at it and think about how much it's saving on the NHS, the client's not bed blocking and all that sort of thing, it is a no-brainer to be honest.
So I'm David, I'm the director and general manager for the Home Instead East Herts & Uttlesford. Been here for about 13 years now and we cover a 30 mile radius looking after people, the elderly, people that have learning disability, and mental health.
So before we used the Raizer we uh well when the client was on the floor we used to phone for an ambulance and we could be waiting up to 6 to 7 hours for an ambulance crew to come out, which means then a staff member needs to be sat with them to reassure them that help is on their way which will then put cost on the client and also for the caregiver.
We have two members of staff that are, we take turns in doing the on-call using the Raizer. They are trained to use the Raizer Chair and also we use our Home Instead policy that sets out how to use and when to use the Raizer. We then, when the staff member phones us to say – or a family member – to say that you know their loved one's on the floor we'll make sure that we assess them first to make sure they've got no injuries, and then we'll then if they haven't got any injuries then we'll come out and we'll then assist them off the floor.
Yes, so I think it's a good thing to have the Raizer because it eliminates the obviously the waiting time again which then enables that client to be reassured that they can stay at home. If we didn't purchase a Raizer then we could be waiting again 6 to 12 hours for an ambulance to come out, then they'll be going into hospital hospital and they could be bed blocking, they could be up there for two weeks just for assessments and checks and blood tests, it could be a weekend, and being able to have the Raizer within the office it cuts the costs down for us because we don't have to pay for the staff member, the clients are happier because they are remaining to stay at home – as their wish is – and it's then it's all win-win for all of us. It also saves money for the client for not waiting for six to 12 hours for an ambulance crew to come over and it cuts down our payroll costs because we're not paying for that staff member to be waiting for that client.
So we have told our insurance. Because it's moving & handling equipment it hasn't cost us anything. As long as the staff member that's using it is trained and competent then there shouldn't be any extra cost.
We are speaking to our ambulance trusts for our local area and we are in talks with our local MP who are looking into cutting the cost for the ambulance service, and introduce the Raizer with Home Instead as an add-on to support our clients, but also our for other clients that might be potential to using Home Instead, knowing that they've got a Raizer. You know if we can support and assist in our local area for non-urgent falls then if a crew is out dealing with you know a person that's fallen they can be responding quicker to people that really really need it you know, really need support from the ambulance service. Yes the client has fallen and they need support, but if they use Home Instead then it'll cut the costs down but also support our community which we should be doing, supporting our local community.
Author
Reuben Bush
Reuben joined the Felgains team in August 2019, bringing with him passion and experience in marketing and design – from a rather different sector. His focus is now on improving each and every touchpoint of our customer experience and building a vast following of raving fans! He loves road cycling, and also happens to have rather a weakness for food – he's a bona fide chocoholic!