March 28, 2023 |

Terry Smith
Best Falls Lifting Equipment For People Living With Dementia
Dementia is a syndrome that causes an ongoing decline of the brain and the body's abilities, and as a result, falls are commonly experienced by people living with dementia.
According to NHS Inform Scotland1, people with dementia are at a greater risk of falling because they:
are more likely to experience problems with mobility, balance and muscle weakness
can have difficulties with their memory and finding their way around
can have difficulties processing what they see and reacting to situations
may take medicines that make them drowsy, dizzy or lower their blood pressure
are at greater risk of feeling depressed
may find it difficult to communicate their worries, needs or feelings
In this article, we will compare 3 common pieces of equipment for lifting fallen people off the floor; mobile hoists, Mangar Inflatable Cushions, and Raizer Lifting Chairs, and assess their suitability for lifting people with dementia. 
Mobile Hoists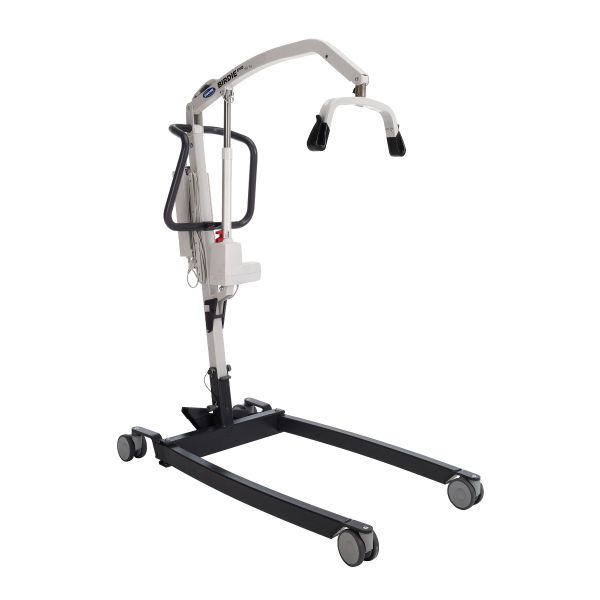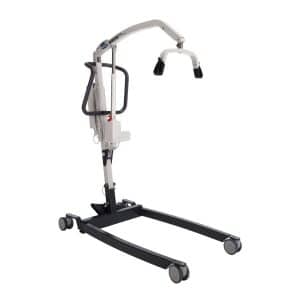 Mobile hoists are a standard piece of equipment in care homes and hospitals, and whilst they are excellent for a lot of patient-handling tasks, they may not be the best option for lifting patients who suffer from dementia.
Positives
Cost.  Compared to the other options in this article, hoists are the cheapest to purchase. 
Suitable for particularly frail fallers. Because you can use a hoist to transfer someone in a sling from the floor directly to a bed or chair, a hoist can be used for very frail or non-ambulant fallers that are unable to mobilise from a lifting chair or cushion. As a result, a mobile hoist may be an appropriate piece of equipment for lifting people with very advanced dementia.
Drawbacks
Too 'hands-on' for patients with dementia. To lift a fallen person with a mobile hoist, they have to be rolled to be able to insert the sling underneath them. Also, being enclosed in the sling when being lifted with a mobile hoist is an experience that dementia patients often find distressing and frightening.
Portability.  Compared to the other options in this article, hoists are the largest and bulkiest.  If the fallen person is in an enclosed place such as a bathroom, you will struggle to lift them using a hoist due to the amount of space needed to use it. 
Mangar Inflatable Lifting Cushions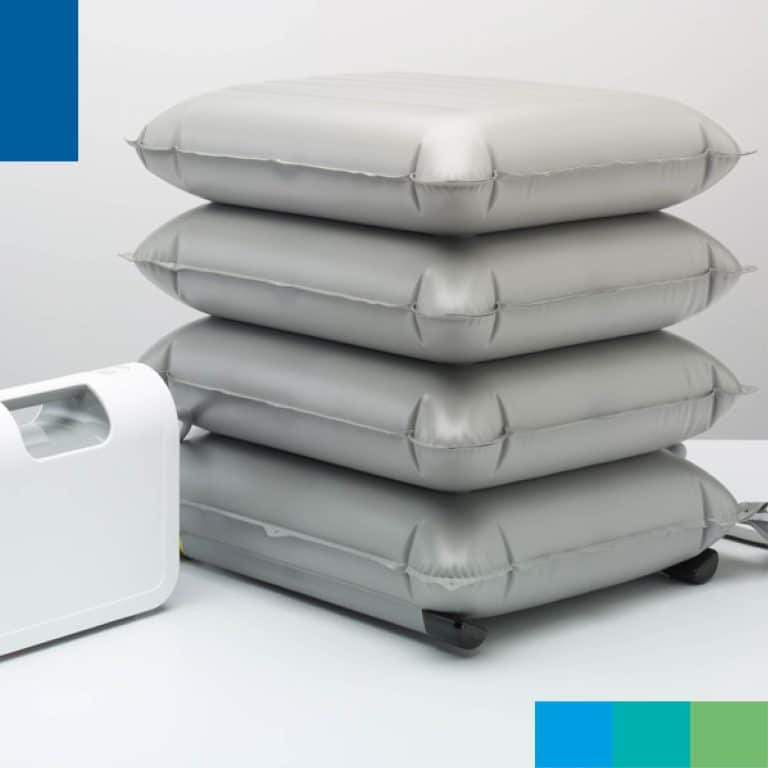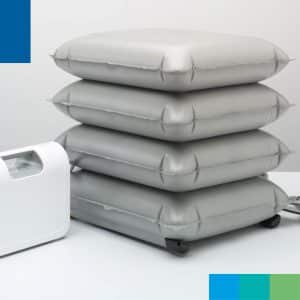 The Mangar Lifting Cushions are a range of air-powered emergency lifting cushions that are designed to be put under a faller and inflated to lift the fallen person off the floor. 
There are currently three models of the Mangar Lifting Cushion:
The Elk.  The Elk is the smallest cushion and doesn't have a backrest, making it portable and popular with ambulance crews.  Safe working load: 450kg
The Eagle. Larger than the Elk, but smaller than the Camel, the Eagle is the latest cushion from Mangar and incorporates a backrest to help support the back, neck, and head of the fallen person. Safe working load: 220kg
The Camel. The largest and widest cushion in the Mangar range, and with a backrest, the Camel is particularly suitable for larger and heavier fallers. Safe working load: 320kg
Positives
Portability. This is particularly true with the Mangar Elk, which weighs just 3.6 kg and folds up for easy carrying. 
Versatility. With high safe working loads, the Mangar cushions are suitable for lifting heavier fallers.
Cost. Cost-wise, the Mangar cushions are economical and are one of the cheaper options on the market. 
Drawbacks
Noisy. The compressor used to inflate the Mangar cushions is very noisy, which can be very distressing for patients with dementia.
You have to transfer the fallen person onto the cushion, which requires much more space and effort from the caregivers, and involves a lot of hands-on pushing and pulling on the faller, which can be distressing and confusing for patients with dementia. 
Instability.  The Mangar cushions rely on air to lift the fallen person, which means that when the cushion is inflating it is quite unstable for the service user and assistance is required from a carer. However, when the Mangar cushions are fully inflated, they are solid and stable.
Battery life. The Mangar compressor's battery lasts for 3-4 lifts, which can sometimes leave you unable to lift a faller due to a flat battery. 
Raizer Lifting Chair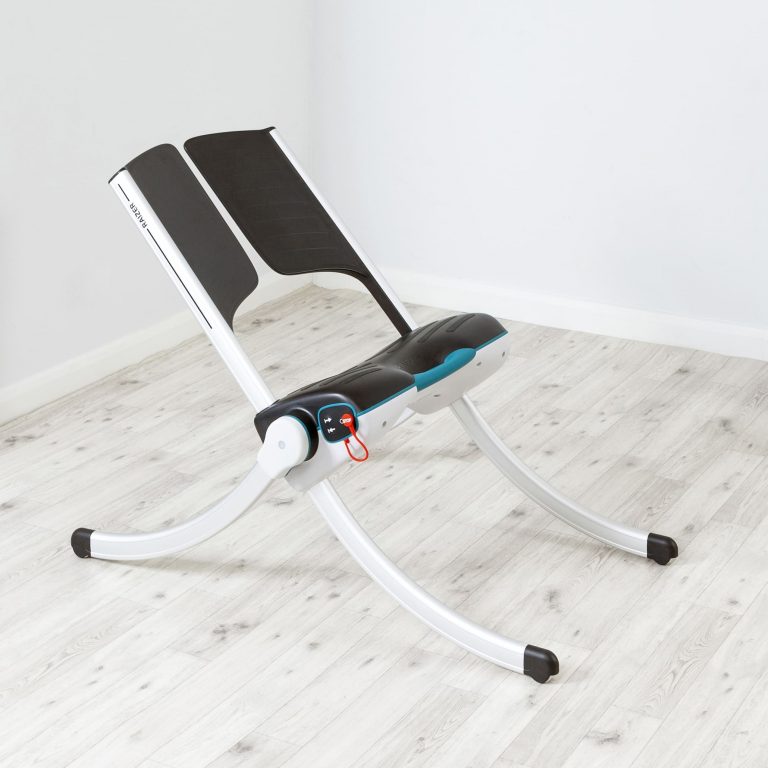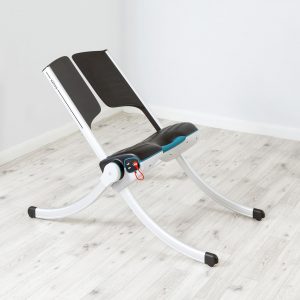 The Raizer is a motorised lifting chair that is assembled around a fallen person to lift them up from the floor after they have had a minor or no-injury fall. 
Positives
Quiet. The Raizer Lifting Chair is near silent in operation, which minimises any distress to patients who suffer from dementia.
The Raizer assembles around the fallen person, so you don't have to physically get someone onto it or move them around hardly at all, again minimising the potential to cause distress to patients with dementia.
Stability. The four lifting arms keep the Raizer stable as it lifts, giving assurance to the faller and caregiver. 
Reliability. The Raizer can complete 80 lifts on one battery charge and it can be left on charge, so you will never be in a situation where a person has fallen and you are unable to lift them due to the battery being flat.
Speed. Ease of assembly and speed of operation allows a fast response – typical operation including assembly is about 3 minutes.
Ease of use and training. Minimal physical effort is required to operate the Raizer, so there is significantly less risk of injury to carers.  Because it is impossible to assemble incorrectly, carers find it very intuitive to use.
Can lift the faller to a perching position, making standing or transferring easier for the fallen person and caregiver. 
Drawbacks
Weight of the Raizer seat unit. The seat unit weighs 8kg, which can be heavy if carried for long periods of time without a Raizer trolley.
Safe working load. With a safe working load of 150kg, the Raizer isn't suitable for bariatric fallers. 
Cost. Compared to the alternatives above, the Raizer chair comes with the highest price tag.  We have an article outlining exactly how much the Raizer costs, and what affects the price – read here. 
Which option is best for people living with dementia?
Which option is best for you and your organisation will come down to your individual needs, but where possible, fallers suffering from dementia need to be lifted with lifting equipment that is quiet and involves minimal 'hands-on' moving and handling, to prevent causing further distress or confusion to the patient. 
I hope this article has given you a good idea of the options that are out there, and the positives and drawbacks of each. If you would like to talk the options through with us or book a trial of a falls lifting product, feel free to contact us on the form below and we will be happy to talk.
---
Citations
[1] https://www.nhsinform.scot/healthy-living/preventing-falls/falls-and-dementia
---
Related articles
Raizer Lifting Chairs vs Mangar Inflatable Lifting Cushions; An Honest Comparison
The Best Falls Lifting Equipment For Hospitals In 2023
How do you know if a fallen person is safe to lift from the floor?
---
Get in touch
Got a question or want to send us a message?  Let's talk.
Author
Terry Smith