September 11, 2023 |

Natalie Webber
Can I buy a riser recliner chair on next day delivery near Ipswich, Suffolk?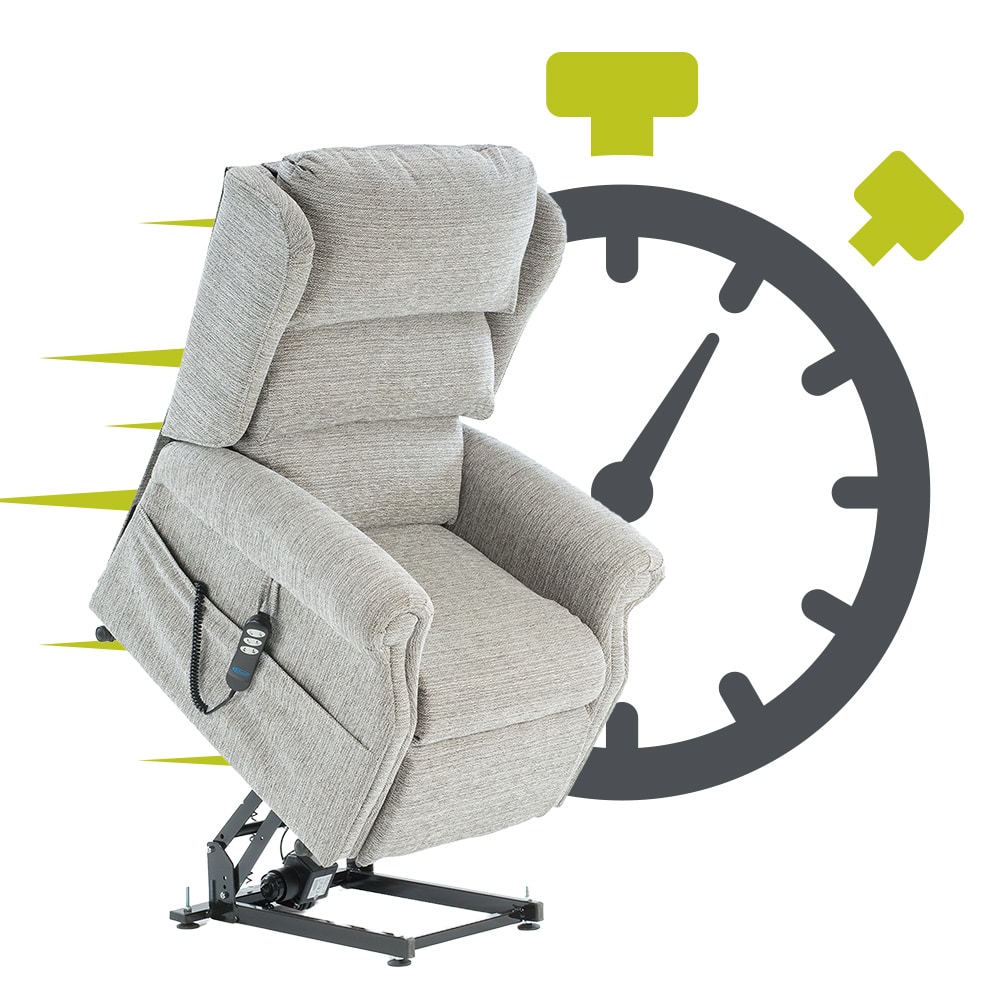 We get it. You can't always plan for these things and now you're in a hurry. Maybe Dad's being discharged from hospital tomorrow and you need a riser recliner chair delivered for when he comes home. The truth is, we see this all the time and we always do our absolute best to accommodate urgent riser recliner enquiries – it's all in a day's work!
Now, we have to be honest and say unfortunately we can't guarantee we'll always be able to offer you next day delivery for riser recliner chairs. Why? You might get lucky but, at short notice, we are very likely to already be fully booked for the next 24 hours.
So, how can we help you get a rise and recline armchair delivered fast? For starters, we hold a wide selection of riser recliner chairs in stock, so we have at least one model available immediately for the most common requirements. To be absolutely clear, these aren't just showroom models; we are fortunate to have a large warehouse which is ideally suited to holding extra riser recliner stock for last minute eventualities!
3 fastest ways to get riser recliner chairs delivered near Ipswich, Suffolk
1. Same-day collection from our Ipswich Showroom

The good news is that all our riser recliner chairs dismantle into two more manageable pieces (backrest and seat unit). You will, however, need a small van or estate car for this to be a viable option for you. You'll also want another pair of hands to help you lift into place at home. Collection from our Ipswich Showroom probably isn't going to be ideal, but the option is there for the most urgent requirements. 
2. Delivered by Felgains within 48 hours

Knowing typical lead times sometimes don't cut it, we're pleased to offer versions of our Ashore Taylor Riser Recliner on 48-hour delivery, for any customers who live within 20 miles of our Ipswich Showroom. Yes, this includes set up. We'll deliver your riser recliner, put it into place in your home, assemble it and set up so it's right ready for use. The only caveat is that we're only able to offer this Monday to Friday.
3. Selected models can be ordered on express delivery

In the event that we don't have a suitable model in stock, we are able to order some standard riser recliner chairs on express delivery, which can usually be delivered to you within 7-10 working days.
How to buy
1. Give us a ring on 01473 741144 or pop into our showroom and we'll help you choose the most suitable express riser recliner model. You can view our riser recliner range here.
2. When you place your order, complete a VAT exemption form if you qualify for VAT relief.
3. Provide contact details for booking delivery (this can be family or friends where needed) and we'll sort the rest.
A footnote: It is possible that, if your needs mean you require a made to measure riser recliner chair, you won't be able to take advantage of the express delivery options above. However, we must say we love solving problems – and where there is a will there is (generally) a way! The bottom line is give us a ring and let's see what we can do.
---
Related articles
What is a made to measure riser recliner chair? What to expect, options & limitations
Standard vs made to measure riser recliner chairs: which is best for me?
How to choose a riser recliner chair
---

At Felgains, we supply riser recliner chairs so you can enjoy a better day with increased independence. Established in 1977,

we've

been fitting people with riser recliner chairs for 45 years!

If

you're

shopping around, you can

take a look

at our riser recliners

, talk to our trusted team on 01473 741144

or visit our

Ipswich showroom.
Author
Natalie Webber