February 9, 2023 |

Terry Smith
What Are The Consequences Of Falls In The Elderly? Physical, Psychological, and Social Impacts
Falls in the elderly can result in a wide variety of consequences, ranging from physical consequences such as broken bones and hospitalisation to social and psychological factors such as a loss of independence or developing a fear of walking.
The consequences of falls are numerous and significant, and cannot be overlooked, so in this article, we will outline some of the ways experiencing a fall may negatively affect an elderly person.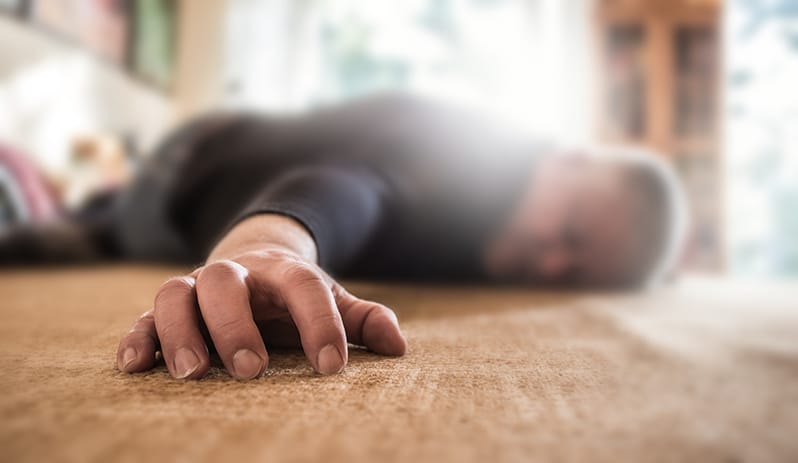 Physical consequences of falls in the elderly
The most common physical injuries for fallers are fractures, particularly in the wrist, arm, ankle or hip. Falls are the leading cause of hip fractures; a significant 10-15% of falls result in fractures, and 5% of falls result in more serious soft tissue injury or head trauma1.
Other physical injuries often caused by falls include:
Bruising and swelling
Sprains, particularly in the ankle and wrist
Head injuries
What if the faller is lying on the floor for a long time?
When a faller has to wait on the floor for an extended period of time before being lifted up by a caregiver or responder, this is called a long lie. With the current pressure on the NHS, ambulance response times are at an all-time high, resulting in long lies becoming increasingly common.
The longer someone stays on the floor, the worse the outcome is going to be, so even if the fallen person didn't sustain any injury as a direct result of falling, they could develop an injury whilst lying on the floor.
Some of the serious complications associated with long lies include:
Pressure sores
Dehydration
Hypothermia
Pneumonia
Acute kidney failure
How many people are hospitalised due to falls in the UK?
There are around 255,000 fall-related emergency hospital admissions in England among patients aged 65 and over each year.
According to Public Health England, falls are the number one reason older people are taken to the emergency department at a hospital2. 
Psychological consequences of falls in the elderly
In addition to the physical consequences, falls can also have a big psychological impact on the elderly.
If an elderly person sustains an injury due to falling, the subsequent loss of independence can result in frustration and a loss of self-esteem due to an inability to carry out daily activities and tasks as easily as before.
Furthermore, having to use walking aids or having to rely on assistance due to injury can lead to feelings of embarrassment and a loss of dignity.
It's also very common for a fallen person to fear the possibility of falling again, and subsequently, develop a fear of walking.  A survey commissioned by Age UK found that millions of older people are worried about falling over, with 4.3 million (36%) saying it topped their list of concerns3.
Social consequences of falls in the elderly
Ultimately, all of these physical and psychological effects can lead to a reluctance to undertake everyday activities and carry on living a 'normal' life, which in turn can lead to social isolation and increasing frailty.
Losing independence is a huge factor, and long-term hospitalisation or moving into residential care can result in a loss of social contact with friends and family. A study undertaken by the Care Inspectorate reported that 40% of care home admissions recorded a fall as a contributing factor to entering residential care4. 
Also, with costs averaging around £800 per week for a place in a nursing home5, the financial impact on an elderly person of moving into residential care cannot be overlooked. 
Summary
As we've covered, falls in the elderly can result in a number of physical, psychological, and social consequences.
As a result, it's very important to have measures in place to try and prevent falls from happening, and to have a system in place that allows for a quick and effective response when falls do occur, to minimise the effects as much as possible.
We have an article that outlines 5 simple measures you can take to help prevent falls, which you can read here.  We also have written a piece explaining how to lift an elderly person who has fallen, whether you have access to specialist lifting equipment or not – take a look here. 
Citations:
[1] https://www.ncbi.nlm.nih.gov/pmc/articles/PMC2793090/
[2] https://www.gov.uk/government/publications/falls-applying-all-our-health/falls-applying-all-our-health
[3] https://www.ageuk.org.uk/latest-press/articles/2019/may/falls-in-later-life-a-huge-concern-for-older-people/
[4] https://www.careinspectorate.com/index.php/news/3270-falls-and-fractures-in-care-homes
[5] https://www.ageuk.org.uk/information-advice/care/paying-for-care/paying-for-a-care-home/#:~:text=Care%20home%20fees%20will%20vary,place%20in%20a%20nursing%20home
---
Related articles:
Just how likely am I to experience a fall? Falls in the elderly: facts, numbers and trends
How Do You Lift an Elderly Person Who Has Fallen? (With Or Without Equipment)
What Causes Falls In The Elderly?
---
Get in touch
Got a question or want to send us a message?  Let's talk.
Author
Terry Smith