February 9, 2023 |

Terry Smith
Raizer Lifting Chairs vs Mangar Inflatable Lifting Cushions; An Honest Comparison
With the ever-growing pressure on the NHS and the ambulance service, it's more important than ever to focus on eliminating ambulance call-outs to minor and no-injury falls, by enabling and equipping more people to respond to falls.
In this article, we are going to go through the two most common choices for equipment to lift a fallen person off the floor; the Raizer lifting chair and the inflatable Mangar lifting cushions.
I'm going to be upfront and say that at Felgains we sell the Raizer lifting chairs. Still, our priority is one thing: we want you to be informed about all the options on the market so you can make the best decision for you and your organisation, even if that means not choosing us.
Key features comparison at a glance
| | | |
| --- | --- | --- |
|   | Raizer 2 Lifting Chair | Mangar Lifting Cushions |
| Cost | £3,997 | £1,350-£2,300 |
| Number of lifts on a single battery charge | 80 | 3-5 |
| Safe working load | 150kg | 220-450kg |
| Time it takes to lift a fallen person | 31 seconds1 | 2 minutes, 25 seconds (Mangar Eagle)1 |
| Manual Handling Risk (REBA score) | 3 (Low Risk)1 | 4.3 (Medium Risk)1 |
Raizer Lifting chairs – an overview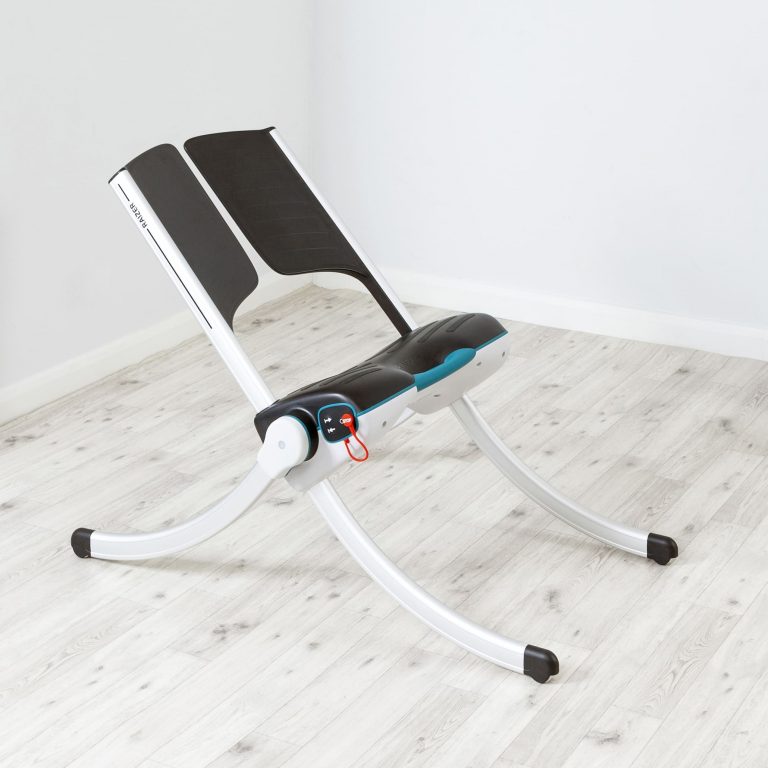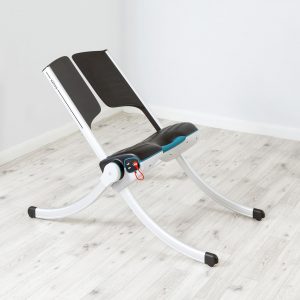 The Raizer 2 lifting chair is an electronically operated device that assembles around a fallen person and lifts them from the floor, with minimal input needed from the responder.
For the purpose of this article, we will be solely focusing on the Raizer 2, which is used extensively by NHS organisations, care homes, and ambulance and response services.  There is also another Raizer model, the Raizer M, which is manually operated using a crank handle and is popular in domestic and low-usage environments. You can read an article comparing the Raizer M and 2 here.
Raizer Lifting chair – positives
Reliability. The exceptionally long battery life of 80 lifts per charge provides falls response teams and ambulance services with a reliable solution that will last several shifts. Also, it is usually a number of years before the battery needs replacing.
Easy to use and implement. Minimal physical effort is required to operate the Raizer, so there is significantly less risk of injury to carers. Carers find it very intuitive to use and the Raizer has proved to be straightforward to implement at a regional level.
Stability. The four lifting arms keep the Raizer stable as it lifts, giving assurance to the fallen person and responder.
Speed. Ease of assembly and speed of operation allows a fast emergency response. The typical operation time including assembly is about 3 minutes.
Low manual handling risk. No physical effort is required to operate the Raizer 2, so there is significantly less risk of musculoskeletal injury to responders.  When comparing it to the Mangar Elk and Eagle, Anglia Ruskin University reported that the Raizer presented a lower manual handling risk1. 
Enables a single-person response. A supportive back and seated position enables one-person operation, saving both time and money for care providers and NHS organisations, and means family members can respond to elderly relatives who have fallen.
Raizer Lifting chair – drawbacks
We have a complete article covering all of the drawbacks of the Raizer (read here).  The main drawbacks of the Raizer are:
Weight of the Raizer seat unit. The seat unit weighs 8kg, which can be heavy if carried for long periods of time without a Raizer trolley.
Safe working load. With a safe working load of 150kg, the Raizer is only suitable for persons up to 150kg in weight.
Cost. Compared to the Mangar lifting cushions, the Raizer 2 chair is the higher-cost option. The Raizer M is less costly and is comparable in cost to the Mangar products. We have an article outlining exactly how much the Raizer costs, and what affects the price – read here.
Mangar Inflatable Lifting Cushions – an overview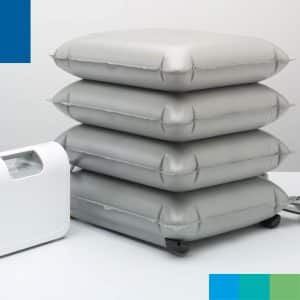 The Mangar Lifting Cushions are a range of air-powered emergency lifting cushions that are designed to be put under a fallen person and inflated to lift them off the floor.
There are currently three models of the Mangar Lifting Cushion:
The Elk.  The Elk is the smallest cushion and doesn't have a backrest, making it easily portable for ambulance crews.  Safe working load: 450kg
The Eagle. Larger than the Elk, but smaller than the Camel, the Eagle is the latest cushion from Mangar and incorporates a backrest to help support the fallen person's back, neck, and head. Safe working load: 220kg
The Camel. The largest and widest cushion in the Mangar range, and with a backrest, the Camel is particularly suitable for larger and heavier people. Safe working load: 320kg
Mangar Inflatable Lifting Cushions – positives
Portability. This is particularly true with the Mangar Elk, which weighs just 3.6 kg and folds up for easy carrying.
Versatility. With high safe working loads, the Mangar cushions are suitable for lifting bariatric people and can also be used to lift amputees. 
Cost. Cost-wise, the Mangar cushions are a cheaper option than the Raizer 2.
Mangar Inflatable Lifting Cushions – drawbacks
Instability.  The Mangar cushions rely on air to lift the fallen person, which means that when the cushion is inflating it is quite unstable for the service user and assistance is required from a caregiver. However, when the Mangar cushions are fully inflated, they are solid and stable.
Noise. The noise of the Mangar compressor can be distressing for some users, particularly those living with dementia.
Battery life. The Mangar compressor's battery lasts for 3-5 lifts, which may sometimes leave you unable to lift a fallen person due to a flat battery. Users also report a poor battery working life, with batteries having to be replaced every year in ambulance trusts. 
Manual handling. Depending on the position of the person who has fallen, you will often be required to manoeuvre them onto the seat of the cushion using equipment such as slide sheets.
Which falls lifting device should you choose?
Any lifting equipment on the market used appropriately can reduce unnecessary ambulance call outs and avoid long lies, which often cause harm such as pressure sores and kidney damage, as well as poor long-term outcomes including repeat falls.
Both the Mangar cushions and the Raizer chair can be used on a variety of surfaces, indoors and outdoors, and they both achieve the same outcome: lifting a fallen person.
Only you know which option is best for you, and in this article, we've done our best to outline the positives and negatives of each option to help you make the best decision.
If cost is your primary concern, or if you're often lifting people over 150kg, then the Mangar cushions represent the most suitable option. 
If you are part of a team or care home that has to respond to falls regularly, you are going to want a piece of equipment that is portable, has a reliable battery, and can be easily operated by one person.  Ambulance services with already stretched workforces may also want to consider how they could avoid sick days from musculoskeletal injuries.
If you would like to talk the options through with us, or book a trial of a falls lifting product, feel free to contact us on the form below and we will be happy to talk.
---
Citations
[1] Biomechanics and Ergonomics of Human Lifting Devices, Anglia Ruskin University
---
Related articles:
How Mid and South Essex Health Care Partnership have Reduced Ambulance Callouts to Care Homes by 69%
How West Suffolk Hospital are using Raizer Lifting Chairs to improve the patient and staff experience
The Best Falls Lifting Equipment for Care Homes in 2023
---
Get in touch
Got a question or want to send us a message? Let's talk.
Author
Terry Smith