Raizer 2 and Raizer M Lifting Chairs - which model is for me?
Raizer Emergency Lifting Chairs
For health and care professionals such as paramedics and carers, the Raizer emergency lifting chairs provide an invaluable aid for lifting a fallen person.
They're an excellent alternative to inflatable lifting cushions, which can be unreliable, noisy, and uncomfortable for the patient being lifted. They also usually require two people to operate, whereas the Raizer chairs can be operated by a single person.
For private users, the Raizer can also be a handy tool to have around the house, particularly for those who care for someone who is susceptible to falls. And especially so when considering that the national standard for ambulance trusts attending non-urgent calls is 3 hours.
What are the stats around falls amongst older people?
Around one in three over-65s in the UK experience a fall at least once a year. A figure that unfortunately increases to around 50% in the over 80s.
However, many people who fall do not suffer any serious injuries. And the best way to help them is to get them off the floor as quickly as possible.
But what is the best way to lift a fallen person off the floor?
Trying to physically lift a fallen person, unaided, can be extremely dangerous. Both for the person trying to help and the person who's being lifted.
So, enlisting the help of a specialist lifting chair to lift a fallen person is the safest way to get them back on their feet.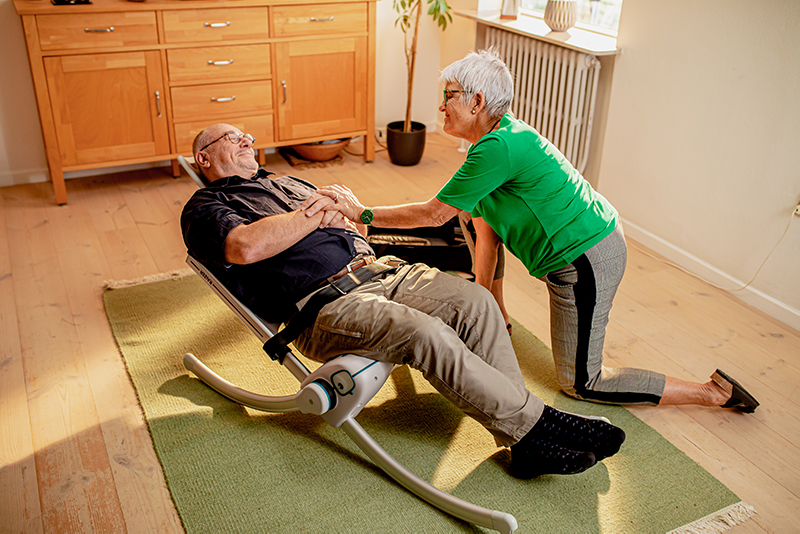 How to lift a fallen person with Raizer Emergency Lifting Chairs
Both the Raizer 2 and Raizer M models work in a very similar way. To lift a fallen person off the floor, the responder or family member first checks that the fallen person is uninjured. The responder then simply has to:
1. Lift the fallen person's legs at the knees and slide the seat unit underneath them.
2. Insert both backrests and each of the 4 lifting arms into the seat unit around the fallen person.
3. Ensure that the fallen person's head and neck is supported by sliding in the Raizer headrest (you can use a hand if you don't have this).
4. Begin the lift, either by using the low-effort manual crank-handle (Raizer M), or electronic motor (Raizer 2).
5. Wait until the chair has lifted the person into a high-seated position – this is the optimum position to allow the fallen person (by now sitting upright) to mobilise to their feet or to a nearby chair.
You can watch videos of Raizer 2 and Raizer M in action at the top of the page.
Which Raizer lifting chair is best for me?
So, Raizer lift chairs are great devices for both health & care professionals and domestic use. But there are two models available: the Raizer 2 and the Raizer M. How are they different? And which one is right for you?
Both are excellent solutions and carry their own merits. Let's go through the features to bear in mind.
Raizer 2 vs Raizer M
The Raizer M is a stripped-back version of the flagship Raizer 2, available at a lower price point. However, it does require a little physical effort to lift the fallen person, whereas the Raizer 2 features an electronic motor that virtually eliminates the need for manual handling.
For health and care organisations such as ambulance trusts and care homes, we recommend the Raizer 2. The Raizer 2 is designed and built for frequent professional and commercial use, and over the last few years has enabled many organisations to improve their falls response, reduce costs and reduce hospitalisation rates.
For private users who will be lifting loved ones, both the Raizer 2 and the Raizer M would be a good choice. Your decision between the two may come down to which features you'd be happy to compromise on in exchange for a lower price point.
Let's dive into the main differences in specification. Here's what you need to bear in mind.
1. Electronic motor vs Manual crank
The most obvious difference is the lifting method. The Raizer 2 is operated by an electronic motor. This is for organisations that are lifting fallen persons regularly and need to reduce manual handling. This would include response services, health & social care, and care homes. The Raizer 2 is also good for private individuals who want the peace of mind that they would always be able to lift a loved one, as it takes next-to-no physical effort. 
The Raizer M's manual crank operation is still very easy to use. However, It does require a little more physical effort. If you're the kind of person that's mobile and strong enough to do the hoovering, you should be able to operate the Raizer M. And because the Raizer M doesn't need an electronic motor, it's available at a lower price. This can make it more accessible for people who need a lifting tool in their own homes, and are happy to compromise with the manual operation.
Another benefit of the electronic Raizer 2 is that there is an audible tone when you insert each component correctly, and a different tone once the chair is fully assembled correctly. The Raizer 2 will not lift unless all the parts are inserted correctly, meaning it is impossible to lift the fallen person unless the chair is correctly assembled. Whilst the Raizer M components locate with a loud click, the audible alert system on the Raizer 2 gives you extra peace of mind that each and every time the fallen person will be lifted safely.
2. Frequency of use
You'll need to consider how often you are likely to use your Raizer. Although both models have excellent build quality, the Raizer 2 can easily withstand frequent use, with multiple lifts per day.
The Raizer M is best used for occasional lifting in the home. It takes a couple of minutes of manual effort to lift someone, so if it is for a frequent faller, the Raizer 2 will be more appropriate. However, both are built to last and come with a warranty of two years (if serviced annually).
3. Assembly and lifting time
The Raizer 2 takes just 30 seconds to assemble and lift a fallen person. This makes it ideal for busy health and care organisations such as ambulance trusts and telecare providers who need to make best use of their resources – the faster the response, the more people their workforce can help.
For people lifting family or friends at home, the extra few minutes it takes to assemble and operate the Raizer M is still a vast improvement on the potentially hours-long delay their loved one may endure while waiting for an ambulance, and the potential medical complications this may cause.
Here's a handy comparison table of the differences in features and specification.
| | | |
| --- | --- | --- |
| Feature | Raizer 2 | Raizer M |
| Time to assemble the chair and lift the person | 20-30 seconds | 1-4 minutes |
| Lifting mechanism | Electric | Manual (with a crank) |
| Charging | You can lift 80 people per charge. It takes 6 hours to fully charge the battery from flat. | As the Raizer M is manual, there's no need to charge it. Therefore it's always ready to go. |
| Weight | 13 kg | 12.4kg |
| Usage | Suitable for both professional health and care organisations and private domestic use | Advised for private domestic use only |
| Safe Working Load | 150kg / 23.6st | 150kg / 23.6st |
| How to purchase | Enquire online or by phone to arrange an assessment | Complete a self-assessment and purchase online |
| Servicing | Annual service recommended for optimum performance |  Annual service recommended for optimum performance |
| Warranty | 2 years if serviced annually | 2 years if serviced annually |
Raizer chair prices

Because the Raizer M doesn't need an electronic motor, and is intended for less-frequent, domestic use, it is the cheaper of the two models. However, some private users may still prefer the peace of mind that the Raizer 2 can give, as it requires almost zero physical effort to operate.
The Raizer 2 costs just over £3500. To get an up to date price, please contact us today.
The Raizer M costs in the region of £1500 – £1800. To see the latest Raizer M pricing, please head to the product page here, where you can buy online.
Additionally, accessories are available for both models which can be purchased along with your Raizer as optional extras. Click here to see the range.
VAT Exemption
Where the Raizer is for a specific individual with a disability, you may not need to pay VAT on your purchase. To find out more about disability VAT exemption, you can read our helpful article here. When ordering the Raizer 2 you'll need to let us know when you place the order. When ordering the Raizer M, this is a simple part of the checkout process.
 I think I know which Raizer model is right for me. What do I do next?
If you're interested in purchasing the Raizer 2 for home or professional use, please contact us. We can then arrange a free no-obligation demonstration and assessment.
If you'd like to purchase the Raizer M to help you lift friends or family, you can watch the video and purchase online.
Find out more about the Raizer Models
Accessories for the Raizer Emergency Lifting Chairs
Our range of Raizer accessories are compatible with both the Raizer 2 and Raizer M. This selection will help you keep your Raizer clean and tidy, and make it even easier to use.
Still have questions?
No problem, get in touch with us and we'll be able to help you and answer any questions you have.