July 27, 2022 |

Reuben Bush
Reducing Ambulance response times | 3 solutions to the current crisis (with examples)
Ambulance services in the UK are currently under intense pressure. Record numbers of callouts and significant handover delays mean that they are at capacity and unable to meet response time targets for category 1 and 2 calls, let alone less urgent category 3 and 4 calls.
Every week there are more photos of long queues of ambulances outside A&E departments, and another story in the news about severe delays and telling stories of people who have suffered as a result of these delays. This article on the BBC about a gentleman in Chipping Campden is a particularly harrowing one.
In this article, we look at the current problem and explore some solutions for easing the pressure – complete with examples of the different ways our customers have achieved this.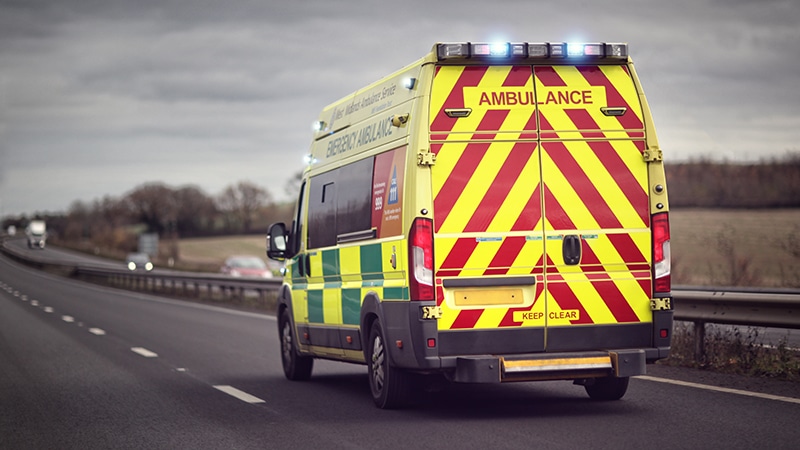 The consequences of increased ambulance response times
The current intense pressure on ambulance services is shown by the response time statistics in this Nuffield Trust article. This means that non-injury and minor injury fallers are experiencing a greater risk of long lies due to increased category 3 and category 4 ambulance response times.
"The current pressures on the ambulance service are unprecedented and have been building for some time. The ultimate safety net for the NHS is the fact that patients who are severely ill or injured can access an emergency ambulance in a timeframe appropriate to their clinical condition. That safety net is now severely compromised and sadly patients are dying and coming to harm as a result on a daily basis. The impact on patients and staff is intolerable" 1
Martin Flaherty
Managing Director at the Association of Ambulance Chief Executives
A long lie and the resulting medical consequences mean that even if there is no harm from the fall itself, by the time the ambulance actually arrives, the fallen person has deteriorated to the point where they then need to be admitted to hospital – due to secondary injuries from the long lie, and not the fall itself.
| | |
| --- | --- |
| Find out in more detail about long lies and their consequences in our webinar recording | |
We'd like to make it very clear that the paramedics and teams at the ambulance services are doing all that they can to respond to and look after patients, and we applaud them for it. The problem goes further back than this, so here we want to explore a solution to help ease the current crisis: improving non injury and minor injury falls response.
A solution: Responding to falls with non-ambulance resources  
By setting up non-ambulance resources to respond to non-injury and minor injury falls, health and care organisations can reduce ambulance callouts, whilst reducing long lies and improving the outcomes for fallers.
Reducing ambulance callouts
Using non-ambulance resources to respond to non-injury and minor injury falls allows services to improve their category 1 and category 2 ambulance response times. And by responding to fallers more quickly – and treating them at their home or care home – aids in reducing hospital admissions, easing current hospital capacity challenges.
Improving outcomes
Responding to fallen persons faster and getting them up from the floor in a quick and dignified manner makes it a more comfortable and less stressful experience for the faller and helps avoid long lies and their associated consequences. The risk of damage is then minimised and the faller has the best chance of maintaining a good quality of life.
What is the Raizer?

The Raizer is a motorised lifting chair that assembles around a fallen person and lifts them up to a seated or perching position. It is easy to assemble and use for the caregiver, and it is safe, smooth and very reassuring for the fallen person.
How 3 organisations are using the Raizer to reduce ambulance callouts and ease the pressure
To show some of the ways this solution can work practically, here we highlight how NHS Trusts and ICSs are using the Raizer chair to reduce ambulance callouts and response times.
Enabling faster falls response in rural areas and putting more ambulance hours back into the system: EEAST CFRs
Falls are a high volume component of East of England Ambulance Service's (EEAST) 111 and 999 calls, making up between 11% and 17% of their Ambulance callouts, depending on the time of year.
To free up ambulances to respond faster to category 1 and 2 callouts, East of England Ambulance Service (EEAST) have upskilled Community First Responder (CFR) groups in falls response and have equipped them with Raizer Lifting Chairs to enable a quick response to non-injury and minor injury falls.
This is improving patient outcomes by preventing the long lies that fallers may otherwise experience waiting for an ambulance following a fall. This response is enabling people to remain in their own homes, preventing ambulance handover delays and thus putting more ambulance hours back into the system.
Rapid response vehicles – keeping 80% of fallers in their own homes: Dorset UCR Team
Dorset were experiencing a high volume of calls through to 999 for non-injury falls. Due to the demand pressures on the South Western Ambulance Service (SWAST), these persons were experiencing long lies, resulting in significant pressures on the Emergency Department (ED).
To solve this problem, Dorset Healthcare set up a new Urgent Community Response Team centralised at their 111 Hub. They now have rapid response vehicles covering the whole county, each equipped with a Raizer Lifting Chair and other nursing and medical equipment. The vehicle is crewed by both nursing and occupational therapy personnel, enabling them to treat minor injuries and carry out any necessary assessments at the patient's home.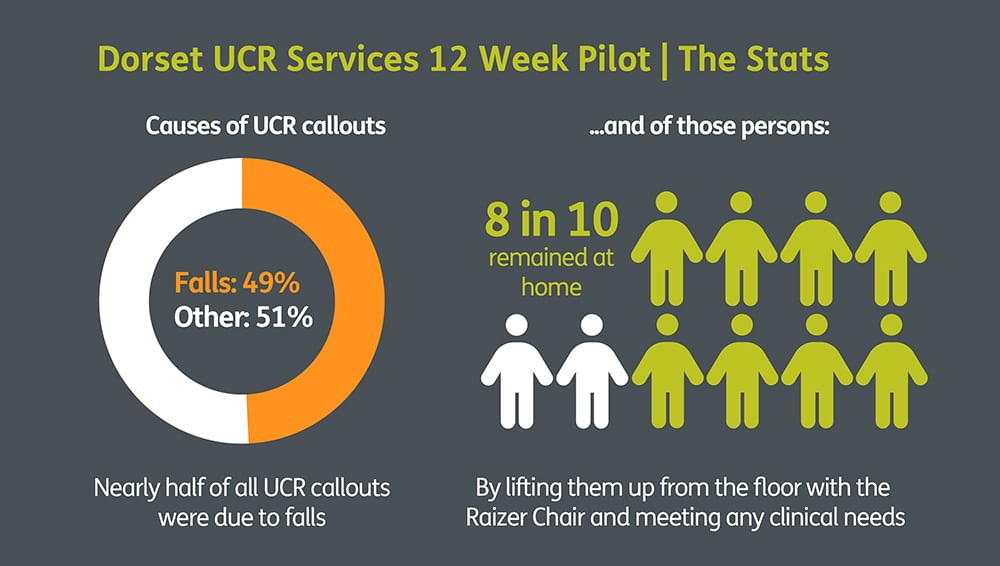 By offering this hospital at home approach – complete with the Raizer for lifting fallen persons from the floor – Dorset UCRT are now responding more quickly to falls (which make up 49% of their callouts) and keep 80% of those fallers in their own homes. This helps them avoid a projected 3,434 ambulance callouts and hospital admissions each year – a significant impact.
Enabling Care Homes to lift fallen residents themselves, reducing ambulance callouts by 69%: MSE HCP
Mid and South Essex Health and Care Partnership (MSE HCP) were experiencing high volumes of ambulance callouts to non-injury falls in care homes. The average ambulance response time to these was over 4 hours, leading to long lies and avoidable hospital admissions.
As a result, non-injury falls were absorbing significant capacity across acute services. Ambulance callouts to non-injury falls increase response times to urgent category 1 and 2 calls, and conveyances from care homes increase ambulance handover delays, adversely impacting the number of people that A&E could see within their 4 hour target time.

To help solve this problem, MSE issued Raizer Lifting Chairs to care homes within their region, enabling care home staff to lift non-injured fallen residents. This improved the quality of care that the homes could give their residents, and reduced the number of ambulance callouts by 69%. Not only does this free up ambulances to respond quicker to category 1 and 2 callouts, it will save them a projected £1.3 million every year.
Enabling the correct response
All 3 of these solutions are set up around providing an appropriate response as near as possible to the need. Like the 3 examples above, putting these solutions in place in your organisation will enable you to free up ambulances to respond faster to category 1 and 2 callouts.
Speak to an expert today
We'd love to talk to you about how we can help your organisation implement a solution like one of the suggestions in this article.
Here at Felgains, we can help you through the whole process from initial concept all the way through to full implementation and data monitoring.
The Felgains Falls Solution

Here at Felgains, our Falls Vision is that there should be zero unnecessary ambulance callouts to non-injury or minor injury falls in care settings and the community.

We are working with organisations across health and social care to implement falls response and prevention solutions that enable better care.
Get in touch today to find out more and get the conversation started
---
Citations
1: https://www.bbc.co.uk/news/health-62166818#:~:text=%27Severely%20compromised%27
Author
Reuben Bush
Reuben Bush is the Marketing Manager here at Felgains. He spends most of his time shooting video and writing content that shines a light on how our customers are using our products to improve care, reduce system-wide pressure and save money.