March 28, 2023 |

Terry Smith
Raizer Lifting Chair vs Mobile Hoist For Lifting A Fallen Person
If you're reading this, you probably provide care that involves responding to older people who have fallen, and you are likely looking for the most appropriate piece of equipment to lift fallen people off the floor. 
In this article, I will compare two common pieces of equipment used for lifting fallen people – mobile hoists and Raizer Lifting Chairs. By the end of this article, you will have a clear understanding of the positives and drawbacks of each, so you're able to make the best decision for your organisation. 
Mobile Hoists vs Raizer Lifting Chairs: Features compared at a glance
| | | |
| --- | --- | --- |
|   | Typical Mobile Hoist and Sling | Raizer 2 Lifting Chair |
| Number of people required to operate equipment safely | 2 | 1 |
| Safe working load | 130-200kg | 150kg |
| Speed of lift | 5 minutes | 30-60 seconds |
| Cost | £1000-£2500 | £3671 |
Mobile Hoists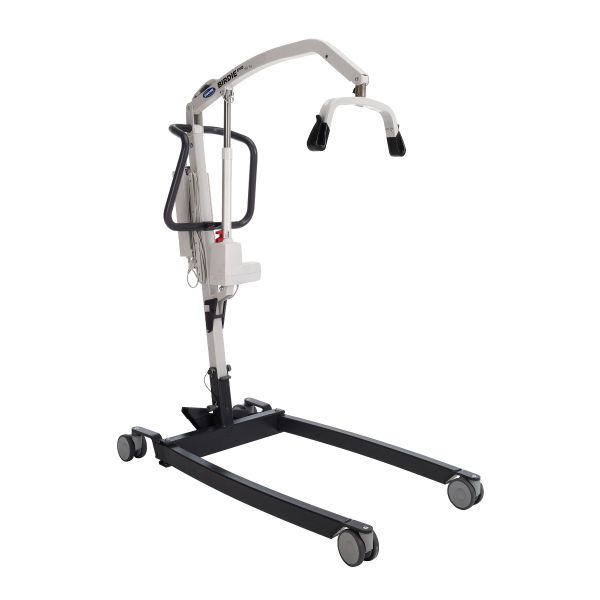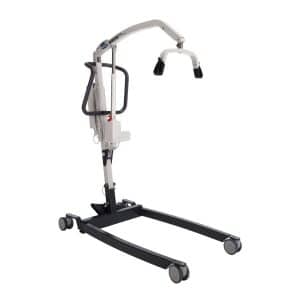 Mobile hoists are portable hoists which enable the movement of patients from one place to another, for example from a bed to a chair. Whilst mobile hoists are excellent for a lot of small moves and patient-handling tasks, there are some drawbacks to using them to respond to falls.
Related article: How To Use A Mobile Hoist To Lift A Fallen Person; A Step-By-Step Guide
Positives
Low cost and training.  If you work for a hospital or care home, your organisation is likely to already own multiple hoists, so the extra cost and training of staff are minimal. 
Suitable for lifting particularly frail patients. Because you can use a hoist to transfer someone in a sling from the floor directly to a bed or chair, a hoist can be used for very frail or non-ambulant patients or residents who are unable to mobilise from a lifting chair or cushion.
Drawbacks
Impact on staff time. Lifting someone with a hoist and sling typically takes several staff and is time-consuming.  The time it takes to find a hoist and sling and then wheel it to the location of the fall, before then lifting the person up, means the fallen person is likely to spend longer than necessary on the floor, and the staff will be spending more time than necessary responding to falls.
Portability.  One of the main drawbacks of using mobile hoists to respond to falls in hospitals, care homes, or in the community, is their size and lack of portability. If a patient has fallen in an enclosed area such as in a bathroom or next to a bed, which are both common scenarios, you will struggle to lift them using a hoist due to the lack of space. Also, hoists can be difficult to quickly transport from one area to another, impacting staff time and response time. 
Lack of dignity. Particularly for fallers living with dementia, being lifted in a hoist can be very distressing due to the 'hands-on' and enclosed nature of the sling.  For ambulant fallers, a hoist and sling is normally an overly passive intervention that can take their independence away.
Manual handling. Using a hoist and sling to lift someone involves a lot of manual handling to roll and manoeuvre the fallen person to get the sling in position, and then lift them up into a chair or bed.
Pricing
How much mobile hoists cost can depend on their functions and their safe working load, but for a rough guide, a mobile hoist and sling will cost between £1000 and £2500.
Raizer Lifting Chairs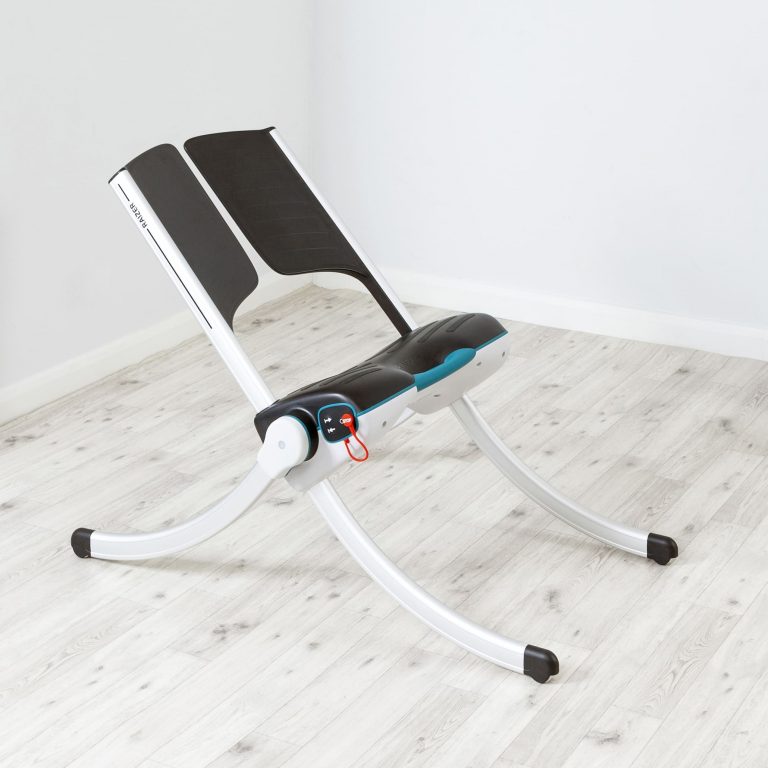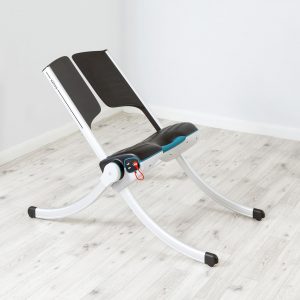 The Raizer 2 lifting chair is an electronically operated device that assembles around a fallen person and lifts them from the floor, with minimal input needed from the responder.
For the purpose of this article, we will be solely focusing on the Raizer 2, which is used extensively by NHS organisations, care homes, and ambulance and response services.  There is also another Raizer model, the Raizer M, which is manually operated using a crank handle and is popular in domestic and low-usage environments. You can read an article comparing the Raizer M and 2 here.
Positives
Reliability. The exceptionally long battery life of 80 lifts per charge provides falls response teams and ambulance services with a reliable solution that will last several shifts. Also, it is usually a number of years before the battery needs replacing.
Easy to use and implement. Minimal physical effort is required to operate the Raizer, so there is significantly less risk of injury to carers. Carers find it very intuitive to use and the Raizer has proved to be straightforward to implement at a regional level.
Stability. The four lifting arms keep the Raizer stable as it lifts, giving assurance to the fallen person and responder.
Speed. Ease of assembly and speed of operation allows a fast emergency response. The typical total operation time including assembly is about 3 minutes, and the actual lift takes around 30 seconds. 
Low manual handling risk. No physical effort is required to operate the Raizer 2, so there is significantly less risk of musculoskeletal injury to responders. 
Enables a single-person response. A supportive back and seated position enable one-person operation, saving both time and money for care providers and NHS organisations. 
Drawbacks
Weight of the Raizer seat unit. The seat unit weighs 8kg, which can be heavy if carried for long periods of time without a Raizer trolley.
Safe working load. With a safe working load of 150kg, the Raizer is only suitable for persons up to 150kg in weight.
Cost. Compared to the Mobile Hoists, the Raizer 2 chair is the higher-cost option. The Raizer M is less costly and is comparable in cost to Mobile Hoists. 
Related article: 4 Drawbacks of The Raizer Lifting Chair and Solutions
Pricing
The Raizer 2 Lifting Chair costs £3,671 excluding VAT or £4405.20 including VAT.  The Raizer M Lifting Chair costs £1795 excluding VAT or £2154 including VAT.
Related article: How Much Does the Raizer Lifting Chair Cost? (Updated For 2023)
Which option should you choose?
Any lifting equipment on the market used appropriately can reduce unnecessary ambulance callouts and avoid long lies, which often cause harm such as pressure sores and kidney damage, as well as poor long-term outcomes including repeat falls.
Both mobile hoists and Raizer Lifting Chairs achieve the same outcome: lifting a fallen person. Only you know which option is most suitable for your organisation, and in this article, we've done our best to outline the positives and negatives of each option to help you make the best decision.
If you are part of a team or care home that has to respond to falls regularly, you are going to want a piece of equipment that is portable, has a reliable battery, and can be easily operated by one person.  Organisations with already stretched workforces may also want to consider how they could avoid sick days from musculoskeletal injuries.
If you would like to talk the options through with us or book a trial of a falls lifting product, feel free to contact us on the form below and we will be happy to talk.
---
Related articles
Raizer Lifting Chairs vs Mangar Inflatable Lifting Cushions; An Honest Comparison
HelpFall vs ISTUMBLE – An Honest Comparison for ICBs
The Best Falls Lifting Equipment For Hospitals In 2023
---
Get in touch
Got a question or want to send us a message?  Let's talk.
Author
Terry Smith