May 24, 2018 |

Reuben Bush
The inspiration behind Active Minds – reminiscence activities for people living with Dementia
Behind every innovative product that we sell, is a person who saw a problem and was determined to solve it.
Our Active Minds range of reminiscence activities started life as an academic project, dreamed up by Kingston University student Ben Atkinson-Willies. Ben's grandfather had developed Alzheimer's before Ben had enrolled at university, and the whole family had noticed the lack of age-appropriate activities on offer.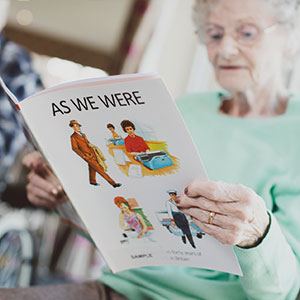 Recalling how they had resorted to purchasing children's toys to keep his grandfather entertained, Ben instantly knew what his response would be when he was set the project entitled: "How can design help to improve the quality of life of people in long-term healthcare?".
With the help of his design tutors, local healthcare experts and a leading care home group, Ben took his work well beyond the scope of the initial project. After gathering lots of feedback, he refined his 16 prototypes into one puzzle.
Boosted by his grandpa's positive reaction to the game, Ben has since expanded the range, and we're proud to be providing them to the public on his behalf.
Here are some impressive stats to show just how far he's come:
91% of carers felt products improved well-being
91% of carers felt products reduced frustration
86% would recommend Active Minds products
103,300 people have seen an improvement in their quality of life so far
Why not browse the full range of reminiscence activities on offer from Felgains?
Author
Reuben Bush
Reuben joined the Felgains team in August 2019, bringing with him passion and experience in marketing and design – from a rather different sector. His focus is now on improving each and every touchpoint of our customer experience and building a vast following of raving fans! He loves road cycling, and also happens to have rather a weakness for food – he's a bona fide chocoholic!