September 1, 2023 |

Terry Smith
Should domiciliary care organisations offer falls response?
Many domiciliary care agencies have a challenge with clients who fall. Finding a client on the floor when arriving for a visit often results in an ambulance callout and a long wait for an ambulance, impacting your service and the level of care you are able to provide.
However, an increasing number of domiciliary care providers, such as Home Instead and Ashley Care, are successfully offering falls response to lift their fallen clients and other fallers in the community, helping them improve outcomes for the fallers, reduce ambulance callouts and save staff time.
In this article, we look at the numerous benefits of dom care organisations offering falls response, how you can implement falls response in your organisation, and answer some of the common questions we receive.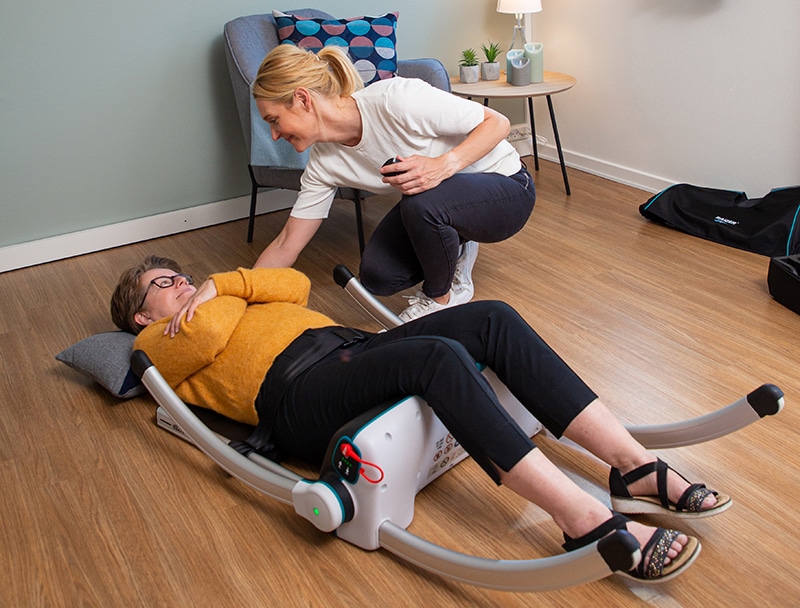 Should dom care organisations offer falls response?
We believe that if dom care organisations offered falls response, they could have a significant impact in eliminating unnecessary ambulance call-outs to falls in the community.
It's becoming ever clearer that the majority of falls in the community don't result in serious injury and can be responded to by community-based services, enabling NHS ambulance services and hospitals to prioritise higher-priority patients. 
There are an ever-increasing number of community-based services and organisations being set up to respond to falls, including Urgent Community Response Teams, Care Homes, and other TEC providers, and we believe Dom Care organisations have a significant part to play. 
By expanding your Dom Care service to offer falls response for your clients, you can:
Reduce the impact that falls have on your organisation and service
Enhance outcomes for those who fall, by improving initial response times and reducing the risk of long lies
Improve system efficiency, focusing ambulance capacity where it is needed most
Further down on this page, we go into more detail about the benefits of offering falls response; for your organisation, the NHS system, and the fallers themselves.
As a dom care organisation, how do you implement falls response?
As a domiciliary care organisation, you can expand your services and upskill your staff to offer de-risked falls response in the community, through receiving the appropriate training and using specialist equipment. 
Your staff can use post-fall assessment tools like HelpFall or ISTUMBLE to assess fallen clients for injury and determine whether they should be lifted from the floor or wait for an ambulance response. If the faller is safe to lift, lifting equipment such as the Raizer Lifting Chair can be used to safely and quickly lift the person from the floor. 
Below is a link to a project with Ashley Care, a domiciliary care service in Essex, who have implemented HelpFall and the Raizer Lifting Chairs to offer falls response in the community:
If you would like to discuss with us in more detail about how to set up falls response in your organisation, or even speak with organisations like Ashley Care directly, feel free to reach out to us at 01473 741144 or contact us via the form at the bottom of this page. 
The benefits of dom care organisations offering falls response
For your clients: Improving outcomes and enabling fallers to stay in their own homes
For your clients who experience falls, by offering falls response you can ensure that the outcome of their fall is the best it can possibly be.
By using a tool such as HelpFall, which guarantees the most appropriate response and next steps, you can greatly reduce the risk of the fallen person unnecessarily waiting for an ambulance and experiencing a 'long lie', reducing the risk of the client developing further injuries and complications. 
Related article: What Is A Long Lie Fall? Causes, Impact, and Prevention
For your Dom Care service: Reducing disruption from falls
By expanding your service and upskilling your staff to offer falls response in the community, you can reduce the disruption that falls typically have on your service. 
Without falls response in place, your staff could be left with a fallen individual for hours, waiting for an ambulance response, impacting your service and negatively affecting the level of care you are able to provide to your clients. 
By offering falls response, the disruption falls have on your service can be dramatically reduced, enabling your organisation to improve the level of care you provide to your clients.
Charles Cross, from Ashley Care, goes over the impact offering falls response has had on their service:
"Our team are now able to deploy the HelpFall Assessment Tool as well as the Raizer Chair within 30 minutes of notification of a fall. This is a huge benefit to the operations of our service and the person-centred care that we aspire to deliver."
Charles Cross, Director, Ashley Care
For the system: Reduced ambulance callouts to falls and improved ambulance response times to cat 1 and 2 calls
By offering falls response, you are taking the burden of minor and non-injury falls off emergency services, reducing the number of unnecessary ambulance call-outs and improving ambulance response times to higher-priority calls. 
Another quote from Ashley Care details the impact they have had on the system through offering falls response: 
"The impact that this project has made on Ashley Care is incredible! We have been able to lift on average, 3 people per week for the last 6 months. This has led to a reduction in hospital admissions, decreased pressure on the ambulance service, and a decrease in disruption to our service."
Charles Cross, Director, Ashley Care
What if you have a no-lift policy?
We appreciate many organisations have no-lift policies in place with the aim of protecting their staff and clients from injury. 
No-lift policies are based on historic NICE guidance, to stop carers from attempting to manually lift a fallen person from the floor, potentially causing harm to either a carer or the fallen patient.
In reality, a no-lift policy ignores the fact that the majority of fallers are uninjured but simply unable to get back to their feet, and by leaving them on the floor waiting for an ambulance, their risk of developing further injury and complications greatly increases. By using a piece of lifting equipment like a Raizer chair to lift the fallen person, the risk of manual handling injury to the carers and patient is removed. 
If you have a no-lift policy in place, we would advise you to consider the negative impact this could potentially have on your clients and your service. If you would like to discuss how organisations like Ashley Care have managed the risk when implementing falls response, feel free to reach out to us on 01473 741144, or via the form below, and we would be happy to discuss this with you.
---
Related articles
Is HelpFall suitable for Domiciliary Care organisations?
The Best Falls Lifting Equipment For Domiciliary and Home Care Organisations
Frequently Asked Questions about the Raizer Chair in Domiciliary Care
---
Get in touch
Got a question or want to send us a message?  Let's talk.
Author
Terry Smith